The Thriving Baguio Art Scene
Baguio City is a natural haven for artists because of its lovely natural environment & the rich cultural heritage of the Corillera Region of the Philippines that inspires creativity.

The most prominent Filipino artist who has taken up permanent residence in the City of Pines is Philippine National Artist Benjamin Cabrera, more popularly known as BenCab.

There is no shortage of original works by local painters and sculptors as Baguio is a haven for the arts, familiar names of local arists such as Ben-Hur Villanueva, Jordan Mangosan, Rishab Tibon and Ged Alangui, among others.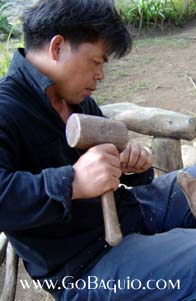 Art Galleries & Exhibits

The City of Pines is also home to a growing number of gallery cafes & exhibits that showcase the paintings and sculptures of both local & visiting Filipino artists. Regular exhibits are held in Baguio Country Club, SM City, Vocas at the 5th floor of the Azotea Building on
Session Road
and Bliss Cafe, a wonderful vegetarian
restaurant
that I always recommend, are noted for hosting regular exhibits.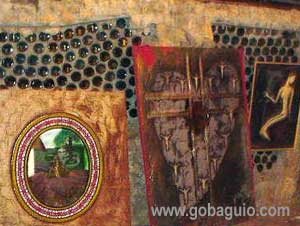 ©2013. All Rights Reserved. GoBaguio! Your Complete Guide to Baguio City, Philippines

Did you enjoy this page and find it useful?




The Baguio Arts Guild has made its home at the Botanical Garden on Leonard Wood Road where you can view the artists at work, or perhaps have your portait done.

Another popular attraction for the arts is Tam-awan Village, an ethnic, living artists' colony set at the quiet fringes of the city. To get there one, pass through Naguilian Road, turn right to Quezon Hill, keep going straight passing through Tacay Road, leep going for about 1km until you see a fork on the road, take the left, then you hit Tam-awan Village.

Arko ni Apo

Right across Tam-Awan Villlage is the home-gallery-studio-cafe of another prominent Filipino Artist, Ben-Hur Villanueva, who took up permanent residence in the Summer Capital of the Philippines following a long career teaching art at the Ateneo de Manila University.

The newest & hottest
tourist attraction
in the City of Pines is the BenCab Museum, which is more than just the permanent home of the art of Filipino National Artist Benjamin Cabrera. Apart from his own work, it also houses BenCab's personal collections of the works by other Filipino masters and his collection of Cordillera artifacts.
The BenCab Museum also features an organic farm, mini-forest, a museum shop and cafe, making it a wonderful destination for Baguio visitors & residents.

Woodcarvers' Village

Another place where you can watch native artists ar work, in the same area as the BenCab Museum, is the 3km-long Woodcarver's Village on Asin Road. To get there, turn left from Naguilian Road to Asin Road and keep going for a few more kilometers until you reach a row of workshops on both sides of the road where there are a fabulous collections of carved figures in varying sizes ranging from giant statues to "stickmen," as well as shops that sell a myriad of wooden items and basket weaves.

This is an area frequented by businessmen who are looking to export ethnic art to places like the USA and Europe, or where a person could commission a particular work to suit his taste. This where I go to buy furniture, decorations and even kitchen implements for my home, and sometimes I just go there to hang around and marvel at the creativity and skill of the native woodcarvers. It's a really friendly place.