Baguio For All Seasons (Part Two)
My Quiet Baguio Days
a good time to visit Baguio City.

Of course there are peak months and there are peak days. This part deals with the specific days, weeks and months that see less visitors and residents than others, and I write this for all those who are coming up to "get away from it all" and unwind in this lovely city in the mist.

Times When Baguio is Less Busy Than Usual

January.
Perfect weather all month long! Chilly but relatively dry with clear blue skies and everything is green and blue. The first week of January especially great with fewer tourists, no students yet, and one may even catch the last days of the BEPZ Bazaar early in the month.
Strawberries
should be cheaper by now.
March.
Between the last day of the
Panagbenga
and right before the start of Holy Week. In case Holy Week falls in early to mid-April, please know that the minute school is out for the summer, then the city starts getting busy again with visitors.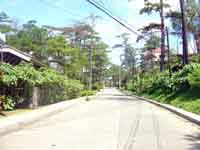 June 1-12 - those studying here are just arriving from the lowland provinces, the last days of summer light rain showers in the afternoons.

July to September. Baguio is most romantic on these days, with the rains, the fog. and the warm fire at night. I have to note though that we have had mostly relatively dry 'wet" seasons (2006, 2007, and even 2009) which is great for tourists wanting to take in the sights. When it's rainy, ah, that's the best time to curl up before a fire!

October. The rains are sporadic, weather starts to get colder, wild sunflowers start to dot the hillsides, local tourists are just starting to come up.

November. Strawberry season starts, the flowers are in full bloom, time to bring out the hats scarves and coats.

December 1 - 23. Chilly days and nights, students leaving for their Christmas break.

Photo taken on 6/13/2007. All is quiet on my street where there are schools at the end of the road

Baguio For All Seasons is divided in three parts:

You are now on Part Two of a series of short articles regarding the best times to visit the City of Pines. The original article just got tool long already. Check out the rest:

Discover festive days in the Summer Capital of the Philippines, and believe me, those months are not limited to the summer vacation months of April and May.

Includes legal and special holidays in the Philippines and whether or not Baguio stores are open on those days.

©2012. All Rights Reserved. GoBaguio! Your Complete Guide to Baguio City, Philippines

Did you enjoy this page and find it useful?