Best Locations for Hotels & Lodging
in Baguio City, Philippines
Business Hotels

are usually located near City Hall. Session Road and Burnham Park, limited parking, great if you are arriving by public transport and take taxi cabs to get around:

Locations: Session Road, Legarda Road, Kisad Road, Abanao Road, General Luna, Governor Pack, Calderon Street areas

Transient Homes

usually in dense neighborhoods, with bare accommodations (and you'll have to bring your own beddings), and usually with cooking facilities available at an extra charge, the downside being limited water supply and parking:

Locations: Quezon Hill, Pacdal, QM, Aurora Hill, Bakakeng, Ferguson, Green Valley, Balacbac, Lourdes Subdivision and Leonila Hill areas

Other Locations

relatively far - but only about 5km, really - from the city center or tourist spots but generally quiet and relaxing, and with good views of mountains, and recommended only if you are ariving via private transport as hailing a cab or jeepney may be difficult in these areas:

Locations: Kennon Road, Marcos Highway, Green Valley, Loakan Road, Tiptop/Ambuklao , Maryhurst areas, Tuding in Itogon

Tourist Hotels & Inns

pine trees, great views of mountains, parking, good neighborhoods, are usually located near or within walking distance to the popular tourist attractions in the Summer Capital of the Philippines, recommended for all types of travelers.

Locations: Camp John Hay, South Drive, Leonard Wood Road, Gibraltar Road, Navy Road, C.M. Recto, Brent Road, Brentwood Village, Outlook Drive, Mines View areas

to find these hotel locations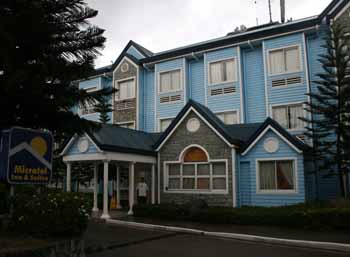 ©2012. All Rights Reserved. GoBaguio! Your Complete Guide to Baguio City, Philippines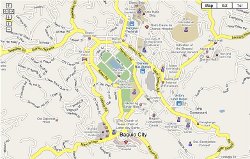 Did you enjoy this page and find it useful?