Balatoc Mines & Crosby Park
Baguio started out as a mining town. Yup, there was gold in "dem dar hills" -- and there still gold a century later.

Right outside Baguio City, about 30 minutes away, is the mining town of Itogon, Benguet. Once a hub of mining activity, Balatoc Mines has been offering since 1997 an exciting opportunity for visitors to become miners for a day.

Visitors get to ride the under-ground locomotive train to the famous Vegas Tunnel, learn about the different stages of the process of gold mining, all while wearing complete outfits with the proper safety gear.

I have said enough -- I don't want to spoil your experience by giving away too much. Suffice it to say that the Balatoc Mines Tour is a great experience for families,*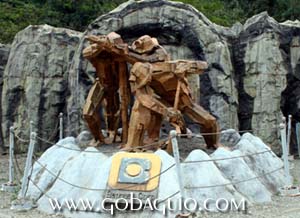 office outings and for school excursions. If you're traveling with the "barkada" (teenage or young adult group), it will be especially fun, too.

The cut-off time for the well-organized. 1.5 to 2 hour tour is 2:00 p.m. so please make sure you leave the city early to get there before operations close for the day. The distance from from the heart of Baguio City is 16 kilometers and travel time is approximately 30 minutes.

Crosby Park is Nearby

Also in Balatoc, Itogon, Benguet is a 6-hectare pine forest that is at 1,150 meters above sea level (Baguio is at 1,500 meters)  with a scenic view of mountains, deep valleys, gorges and rolling slopes.

This area is suitable for hiking, camping, meditation, photography, picnics, sports exercises, walking, and other nature-based experiences. Crosby Park is also a camp site, with an obstacle course, where one can spend the night in

the great outdoors.

How to Get There

Public jeepneys are also available using the Plaza-Balatoc-Acupan line. Or you may hire one of our many taxis cabs to take you there and contract the driver by the hour or for the day. If your group is large, it may be better to hire a jeepney instead.

For more information on these tours, please visit the Tourist Information Center at
Burnham Park
.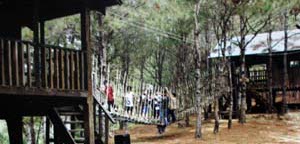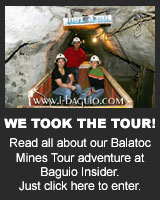 Disclaimer:

This web site is not in any way connected with the owners or operators of the Underground Tour and Crosby Park, nor has it received any payment for the inclusion of the information on this page.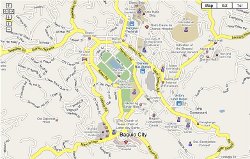 Interactive Map of Baguio

©2012. All Rights Reserved. GoBaguio! Your Complete Guide to Baguio City, Philippines

*Is the Balatoc Mines Tour Safe for Young Children?

The Balatoc Mines experience is not recommended for infants, toddlers and very young children. Please realize that visitors will be going deep into a tunnel and "be a miner for the day" thus, while the tour ensures the safety of all guests, the tunnel is definitely not a place for children too young to appreciate the experience.

Crosby Park, on the other hand, is great for kids but not is not recommended for handicapped or very old folk as vehicles can only reach the base of the hill, after which one climbs on foot to get to the top.

Did you enjoy this page and find it useful?