Baguio Attractions
BenCab Museum
The museum is composed of several galleries that house the permanent collection of Philippine National Artist Benedicto Cabrera (BenCab), his paintings, his collections of indigenous Cordillera art and the works of Filipino masters and contemprary artists.

The different areas of the museum are the BenCab Gallery, Cordillera Gallery, Erotica Gallery, Sepia Gallery, Philippine Contemporary Art Gallery 1, Philippine Contemporary Art Gallery 2, Maestro Gallery, Print Gallery, Patio Salvador and Larawan Hall.

A Perfect Marriage of Art & Nature

But works of art are not all the BenCab Museum has to offer!

When touring the BenCab Museum, visitors will also  view the artist's personal collection of rice gods,

known in the vernacular as bul-ol, and other examples

of indigenous art & crafts of the northern Philippine highlands such as lime containers, tribal weapons

and native implements that evidence the rich culture and traditions of the Cordillera region that have intrigued the artist since the 1960s, and one of the reasons BenCab took up residence in the City of Pines in the mid 1980s, upon his return to the Philippines from London in 1985.

Lounge at the coffee shop called Cafe Sabel and also enjoy the museum's garden with a duck pond, the organic farm with an aviary of local and imported fowl, plus a mini-forest with an eco-trail. Souvenir items, artbooks, paper products, wood carvings and textiles are for sale at the Museum Shop.

The museum is also being offered up as a new venue for art shows and exhibits Baguio City.

The BenCab Museum is a perfect marriage of art and nature -- definitely one of the "must visit"
Baguio attractions
!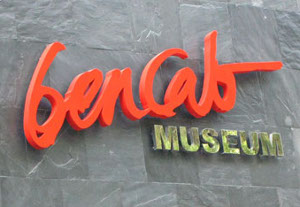 Baguio Attractions

in the same area you may want to check out, too:

Wood Carvers Village

Asin Hot Springs

Nangalisan River

Lourdes Grotto

Visitor Information for the BenCab Museum

Location:

The BenCab Museum is on Asin Road, in an area known as Km. 6, Tadiangan, Tuba, Benguet, which simply means its six kilometers from the center of Baguio City. It would be advisable to get there by car or taxi cab since jeepneys getting out of there may be scarce.

By private transport:

To get there from
Burnham Park
, pass through Harrison Road, and at the stop light at the intersection cross over to and climb Abanao Road. Upon reaching the top of Abanao, there is another stop light. Stay on the left lane as one will go straight (turning right will lead you to Bokawkan Road),to get to Naguilian Road.
When on Naguilian Road, watch for CooYeeSan Mall on your left because you will make a left turn on the road right before the mall. Keep heading straight downhill till you get to Asin Road and watch for markers that indicate Km 6. BenCab Museum will be to your left and travel time will take about 15 minutes given light traffic.

By public transport:

Jeepneys to Asin Road wait for passengers near the
Baguio City Market
. It is advisable to contact a taxi cab to take you there and wait for you instead, since getting out of the area by jeepney may be a long wait.
Business Hours:

Open daily from 9:00 a.m. to 5:00 p.m. except Mondays.

Entrance Fees:

An entrance fee of Php100 per person, about US$2.50 (see
currency converter
), is currently charged to enter the premises, with discounts for senior citizens and students.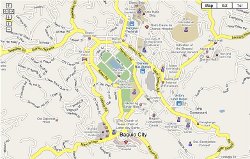 Interactive Map

of Baguio City

Getting to BenCab Museum has just gotten easier. Click the image above to view the
interactive map of Baguio City
. Just keep zooming and scrolling in the general area of Naguilian Road (Quirino Highway) and Asin Road until you find the marker for the BenCab Museum.
©2012. All Rights Reserved. GoBaguio! Your Complete Guide to Baguio City, Philippines

Did you enjoy this page and find it useful?