Get to Baguio Faster with SCTEX
How to Navigate the Subic-Clark-Tarlac Expressway
Getting to Baguio City has just gotten way easier!

First the North Luzon Expressway (NLEX) was opened, transforming the North Diversion Road into a smooth, rational, time and fuel saving avenue for a quicker trip to the Summer Capital of the Philippines, with one third of the trip being traffic- & hassle-free.

Then, in 2008, the Subic-Clark-Tarlac Expressway (SCTEX) was inaugurated,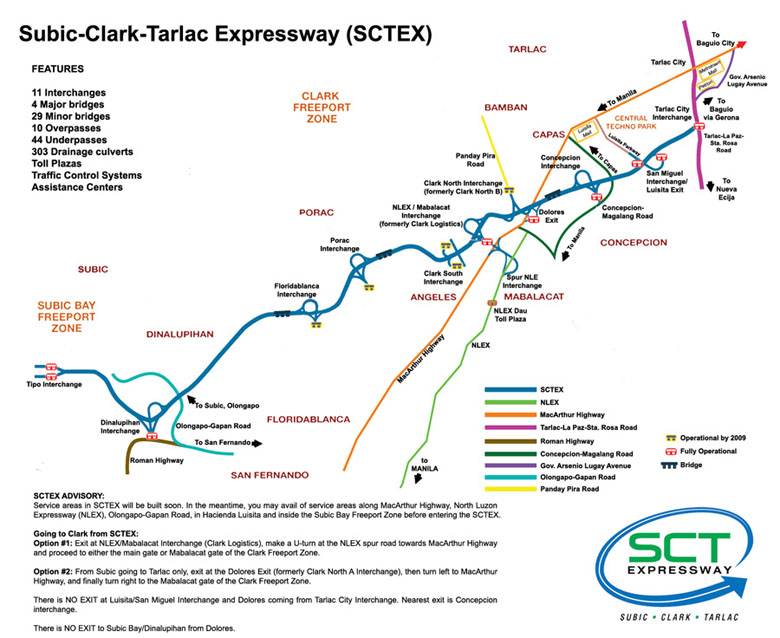 "One Road to Bind them All"

The BCDA aims to connect all the properties under its jurisdiction, starting with Clark, Subic and Bataan. A planned second phase will extend the road all the way to Poro Point in San Fernando, La Union, creating just one access road for all the former U.S. Bases in Central and Northern Luzon.

Just the good news of a road that will reach La Union is enough for travelers to Baguio City since it is barely 45 minutes away from here. And if everything goes well, then another BCDA property,
Camp John Hay
, will be given a direct access route under the ambitious BCDA plan which, of course, is even better.
The effect of this future extension would be that motorists will be able to bypass the "traffic-rich" provinces of Tarlac and Pangasinan altogether eventually, great news for all of use who rue having to pass through them.

For more detailed information on travel routes,

©2012. All Rights Reserved. GoBaguio! Your Complete Guide to Baguio City, Philippines

giving motorists another 40 kilometers of beautiful roads. This means that now 50% of any trip from Metro Manila to Baguio can be negotiated in just 1.5-2.0 hours!

SCTEX is the project of the Bases Conversion & Development Authority (BCDA), under the Office of the President of the Philippines, that oversees the development of all the former U.S. Military bases that were turned over upon the expiration of the RP-US Bases Agreement in 1991.

Did you enjoy this page and find it useful?