"Kennon or Marcos?"
Here folks, finally, is the answer to that million dollar question! Personally, I prefer to pass Kennon Road because it is shorter and my Nissan Patrol* can take the rough patches but. . .

Kennon Road

Historic
Kennon Road
is the shortest access route to Baguio City, with a minimal toll fee (Php15 or USD.30) for cars.
As it snakes through Bued River Canyon, one will see many waterfalls, pine trees and mountainsides dotted with wild sunflowers.

However, a century's worth of extensive mining has depleted some of the surrounding mountains of ground cover and pine trees, leading to land and rock slides, which make Kennon Road pretty unreliable especially during the rainy season.

The road is narrow but easy to use because of gentle bends. So, if you feel your vehicle is "underpowered," I would recommend you take Kennon Road because of the option to turn to Loakan Road at Camp 7 as an alternate route to enter Baguio City.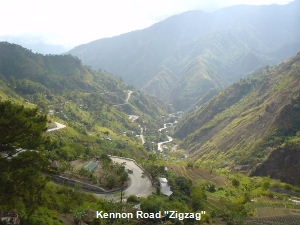 Marcos Highway

Marcos Highway has a scenic view of South China Sea, and its recent redesign has given it short cut entrance just a few hundred meters further north from the Kennon Road Junction in Rosario, La Union instead of proceeding to the original entry point at Agoo, La Union, or the alternative one further up in Pugo.

Although longer than Kennon, Marcos is wider, smoother and "all-weather." Sometimes, it is also nice to pull over and stop for photos in the areas where the clouds are lower than Marcos Highway on a bright, sunny day. Expect heavy fog in the afternoons, though.

Marcos Highway

has a short-cut to Naguilian Road

Take Marcos Highway, especially if you are headed for the north-west side of the city, which is in the general area of Green Valley, Legarda Road, Quezon Hill. There's also an access road from Marcos Highway that allows you to skip the center of town altogether and go directly to Asin Road or Naguilian Road.

Turn left to Suello Village and follow the main road, heading downhill, then at the base, you will see a fork in the road, turn right and start climbing again untill you hit Naguilian Road. If you turn to the left, going downhill you are heading for Asin Road. In any case, since there are no maps for this area, I cannot show you how to do this, but if you pass this access route during the day, you can always ask the friendly natives which direction to take.

Compared to Kennon Road though, Marcos Highway requires a stronger engine because of an unavoidable and particularly steep incline, so if your car doesn't have a problem in that area it Marcos Highway will give you a smooth ride up to the City of Pines.

... I recommend that you take Marcos Highway

because it is more reliable.

©2012. All Rights Reserved. GoBaguio! Your Complete Guide to Baguio City, Philippines

From Kennon Road

there is an option to turn to Loakan Road

This route is also great if you are heading for the east side of the City of Pines, which is the
Camp John Hay
, Baguio Country Club, Mines View area, because you will actually be able to skip the downtown traffic. This road is also the one to take if you are headed for the
Philippine Military Academy
, the Baguio Export Processing Zone and all the other areas in the South-East side of town.
Low-powered vehicles tend to use Kennon Road more than Marcos Highway because there is an option to turn right to Loakan Road at Camp 7 prior to the reasonably steep incline at Camp 8, just before reaching the Baguio General Hospital (BGH) Rotunda.

There is an advisory at the Shell Select Station at Rosario, La Union that gives travelers the status of the different access roads to Baguio City. It is recommended that you stop there to check if Kennon Road is open.


Webmaster's Notes &  Disclaimer:

The recommendations on this page are based on my personal experience as a regular traveler of the Manila-Baguio route.

Readers are advised to pass either roads as carefully and slowly as they can.

While first-time visitor-drivers can easily navigate Kennon Road or Marcos Highway, it is better to do so with the aid of more seasoned drivers who are familiar with the turns, bends. and the climb in general, especially during the peak season when the roads are filled with other vehicles traveling at different speeds, which makes overtaking quite tricky.

Readers are enjoined to follow these  recommend-ations at their own risk.

*The Nissan Patrol was sold recently, been using a fuel efficient compact car these days instead.

Did you enjoy this page and find it useful?