Themed Baguio Recreation
"Party Baguio"
Baguio's night life caters to its relativel young population. This means fantastic live bands and cheap beer!

We also have bars with billiards, bars with all-night internet access, a ballroom dance hall and sing-along karaoke bars.

I must warn you though that, because of that young crowd our bars tend to get rowdy at times, so my suggestion for
Baguio visitors
would be to consider doing what we used to in the '80s -- rent a cottage and have a private party!
Baguio's best clubs and bars are at Nevada Square, on  Session Road, Legarda Road and Leonard Wood Road.

Live bands play everywhere.

For those of you who prefer a pretty snazzy bar, the Lobby at the Manor at Camp John Hay has great music and a wonderful crowd on weekends! Another favorite is the bar at Le Monet Hotel, also at Camp John Hay, that offers the widest selection of Single-Malt Scotch Whisky on this side of the Philippines.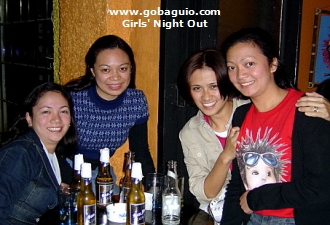 In case you'd like to throw your own party, or maybe even get married here, please know that Baguio is very popular for weddings, reunions and larger celebrations. That's because you can get the same quality of cuisine and appointments at a much lower price than in Manila!

But I reserve that page for a later time. Just know that we do have  banquet halls, ballrooms and events planners available in case you'd like to celerate your special occasion in Baguio City.

Or better yet, find a nice private outdoor spot that will allow you a
bonfire barbecue
-- because this is one of those things one can do only in Baguio!
©2012. All Rights Reserved. GoBaguio! Your Complete Guide to Baguio City, Philippines

Did you enjoy this page and find it useful?