How to Get to Sagada, Philippines
Sagada is best reached through Baguio City, passing through La Trinidad in Benguet, to get to the highest mountain highway system in the Philippines, Halsema Road until one reaches Mountain Province, where Sagada is located.

Sagada may also be accessed from
Manila via Banaue
in Ifugao province, home of the world-famous Banaue Rice Terraces, passing through the eastern side of Luzon island in the Philippines, but getting there via the City of Pines is the most popular way.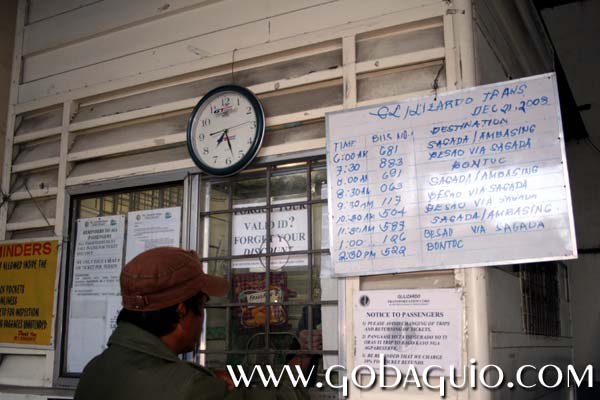 In my trips to Sagada with friends and family, I have traveled both by private vehicle and, most recently, by bus, so I feel very qualified to tell you about getting there both by private and public transport.

There are hourly bus trips leaving Baguio from 6:00 a.m. with the last one leaving at 1:00 p.m. everyday.

The non-airconditioned bus trips cost less than Php400 per person (2012 rates) and it takes about 5-6 hours to get to Sagada, with two short stops for meals and personal necessities.

The bus terminal in Baguio is at the old Dangwa station. To get there one gets off at Center Mall on Magsaysay Road. Pass through the middle road to dividing both wings of the mall to reach the terminal behind it. Head for the terminal on the left side farthest from the entrance. See
Interactive Map of Baguio.
Helpful Tips When Traveling to Sagada by Bus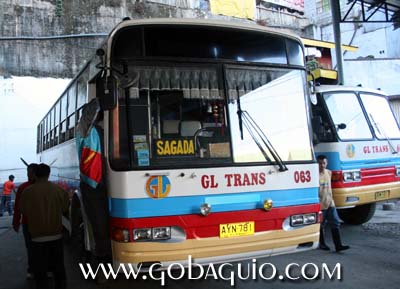 How to get to Sagada by private transport

Non-airconditioned buses to Sagada depart daily from 6:00am to 1:00pm

Getting to Sagada by Bus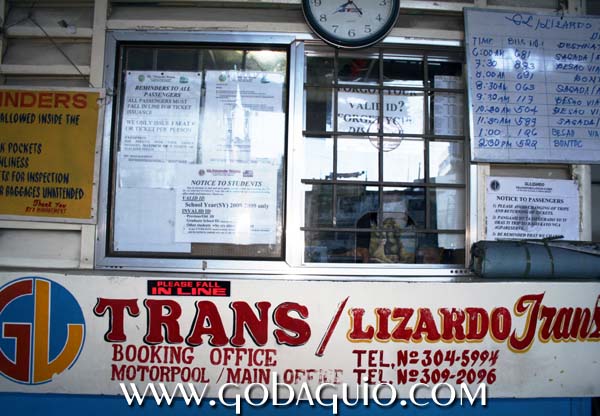 The bus to Sagada can be boarded at the GL-Lizardo Terminal on Magsaysay Road, behind Center Mall.

Buy your tickets early, especially during peak travel months of December to May. Be at the terminal at least 30 minutes prior to departure.

Your baggage may be stowed above your seat or by your feet, wihile other luggage may be checked into the cargo compartment of the bus.

If you find that the seats are too cramped, or that you are bringing too much luggage (as we were on our last trip in December 2008, each bringing a laptop, a packpack and camera bag), know that it is possible to buy an extra seat just for the luggage or for you to be able to stretch out and be more comfortable during the trip.

There is a restaurant beside the terminal, so if you arrive early or if you are unable to get a seat on the next trip because the bus is full, it may be good to take breakfast or lunch before you go.

There will be a first stop after traveling for about one hour or so in a highway restaurant where one may eat and go to the restroom. There's also a convenience store where one may buy some snacks.

Make sure to bring or buy some snacks. The trip, although one will feast on beautiful views of the majestic mountains of the Cordillera region in the Philippines, can be pretty boring after a while, as it's "just" one beautiful scenery after another.

After another two hours. the bus will stop once again so folks can go to the restroom.

One good thing about riding an non-aircon bus is that you can take beautiful photos of the wonderful view of vegetable and rice terraces of Benguet and Mountain Province on Halsema, so keep your camera handy. 

Upon reaching Sagada, one gets off at the same waiting shed where one will wait to get on the bus back to Baguio. There is no terminal or depot where one can buy a return ticket, so just know that the return trips follow the same schedule. Just go wait for the bus by the shed when you are ready to leave.

Click to enlarge the photo to view bus schedules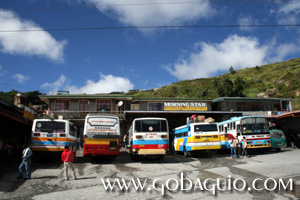 The first stop, a highway restaurant in Abatan, Benguet on Halsema Road, Meals, snacks, restrooms are available here.

Although this is the more popular way to get to Sagada, the is another way to get there from Manila, which is via Banaue in Ifugao.

To compare options you may want to check out Sagada from Manila via Banaue. This is a good route to take if you are planning to maximize your enjoyment of the Cordillera Region in Northern Luzon in the Philippines by visiting the Banaue Rice Terraces as well.