Shopping in Baguio City
Baguio City is a bargain hunter's paradise.

Prices in the flea markets and souvenir shops are not always fixed so your haggling skills will be put to good use.

Know that Baguio is no tourist trap, though --

the prices and rates  are pretty reasonable compared to other top Philippine destinations,

and can go lower even!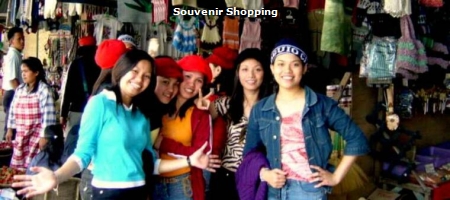 The Best Places to Shop in Baguio, Philippines

The length of Session Road is the city's premier shopping area, anchored by SM City Baguio Mall on Luneta Hill at the top and the Baguio City Market at the base on Magsaysay Ave., that runs perpedicular to it. Specialty shops and restaurants are found in this city center where everybody goes for all their supplies.

The tourist market at Mines View Park has a great selection of dry goods found at the city market at comparable prices. Actually, it is more of a shopping area now than real attraction since there are better views of the Cordillera to be had elsewhere. 

The Good Shepherd Convent on Gibraltar Road is a favorite stop. One can find this store up a driveway right beside Mines View Park. Popular for its peanut brittle, ube and strawberry jam. They have expanded their products to include baked goodies, homemade ice cream and a tasty strawberry-calamansi juice over the counter.

Souvenir shops are located near each tourist attraction. Unlike in other countries, these are not tourist traps. Vendors know that folks can compare prices easily so standard pricing applies.

Camp John Hay has some interesting stores in two areas, Mile Hi Center and the newly-opened Ayala Technohub, including a commisary and a factory outlet of export overrun garments from the Baguio Export Processing Zone.

Narda's on Upper Session Road is well known for Narda Capuyan's original woven cloths that gave gained her international reknown. Her designs have been copied by other local weavers and are selling in the dry goods sections of the markets.

Then there are the malls: SM City, Center Mall, Abanao Square and Porta Vaga with specialty shops as well as familiar stuff that you can find in other malls all over the Philippines.

For antiques, Filipiniana, and ethnic furniture with shipping services available, go to top floor at the Maharlika Livelihood Center parking lot (yup -- the parking lot, okay?). Of course, there are other furniture shops scattered around the city on Leonard Wood, and at Camp John Hay 

And here is the reason office workers from Manila come up on overnight trips: the Ukay Ukay. Also know as  "Wagwagan." These are thrift stores selling anything from used clothing to children's toys. If you're lucky, you may find an authentic vintage Louis Vuitton Bag for a fraction of the cost on Ebay!

Probably because the residents here are themselves frugal in nature, they always have an eye out for a good bargain and will not take it against you if you haggle for a better price.

A favorite place for tourists and visitors to shop is at the
Baguio City Market
where you can get anything and everything. The Dry Goods section (Marbay) and the furniture and antiques on the upper floors of the Maharlika Livelihood Center are favored by bargain hunters.
'NIGHT MARKET:' Is It Really Worth Going?

After office hours, a portion of Harrison Road is closed to traffic and vendors are allowed by the city government to their wares there.

In my opinion, this night market does nothing to enhance a visitor's experience of Baguio City as the items sold are ordinary at best and low quality ukay-ukay items at worst. The ukay-ukay items are not necessarily cheaper at this time and defects cannot be easily detected due to poor lighting conditions. The vendors sell mostly used clothing and Divisoria sidewalk-type goods -- and none of the items are representative of Baguio's arts and crafts.

However, there are great bargains to be found by the La Azotea building where young artists and craftsmen sell folk art and trinkets along the sidewalk in the evening.

One night market that can be fun, with a lot of items to choose from is "Session in Bloom" held towards the end of the
Panagbenga
every February (shown in the photo).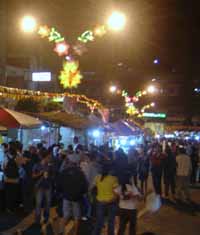 Session Road in Bloom is a well-received weeklong street market held during the Panagbenga, annualy on the last week of February or the first week of March.

©2012. All Rights Reserved. GoBaguio! Your Complete Guide to Baguio City, Philippines

Did you enjoy this page and find it useful?