Themed Baguio Recreation
"Sporty Baguio"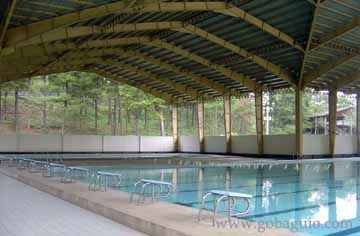 There's no better place in the Philippines for outdoor sports and recreational activities than in Baguio City.

Even internationally-reknown Filipino boxer, Manny "Pacman" Pacquiao chose to hold his training for the big bout in November 2009 with Miguel Cotto in the City of Pines over Mexico and decided to make Baguio his training center from 2009-2012, as the climate is  similar to the boxing match venues in the United States.

The climate really has a lot to do with the suitability of Baguio as a sports venue. For example, horseback riding at high noon is possible in this tropical country, and playing on either of our competition golf course can be such a pleasure.

Our high altitude also is preferred by runners and bikers

for training, with the Summer Capital of the Philippines usually included in triathlon events. One of the most difficult legs of the 1970s-80s "Tour of Luzon" bike run was the
Kennon Road
portion.
The City of Pines offers both its visitors and residents a wonderful natural environment for all these activities. We have football fields, rugged hillsides for motocross, dirt bikes, and paint ball -- and of course, covered gyms for racquet sports, basketball and volleyball. We also have bowling lanes and billiards halls.

Take a look at all that we have by way of sports activities, so that you know exactly what gear to bring on your Baguio vacation.

So come on up and try to break into a sweat!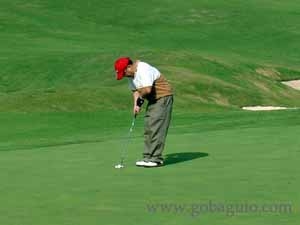 Golf. Baguio has the only "naturally airconditioned" golf courses in the Philippines! And we have two very popular ones, too - those at Camp John Hay and Baguio Country Club.

Running & Walking. Favorite jogging paths are South Drive, Leonard Wood Road, and Burnham Park. Of course Baguio provides the best places & vistas for walking in the Philippines, and the slopes and our high altitude are perfect for building your resistance.

Comment from Resty R. at my old blog, Baguio Insider

"Hi Lisa, For running enthusiasts, nothing beats Baguio. Your side of

Baguio features the best running routes in the early morning. L.Wood Rd,

Gibraltar, Outlook Dr.and South Dr. One can even use the Teacher's Camp oval,

25 pesos during week days and 35 during week ends and holidays."

Biking. Mountain biking is very popular in Baguio. So if you're planning to bring your personal bike up, know that you'll have lots of good company. Don't forget all necessary protective gear.

Racquet Sports. Racquet sports like tennis and badminton are also played a lot here and the courts are located in Burnham Park and Baguio Country Club, respectively. Table Tennis enthusiasts are all welcome to play with Baguio Table Tennis League at the Baguio Convention Center.

Basketball & Volleyball. Basketball is are played in the different gyms of the Baguio universities and colleges, and also in the different barangay halls as this is the most popular sport for Filipinos. Volleyball is also played in the different school gyms.

Bowling & Billiards. Bowling alleys and billiards are available at Baguio Center Mall, Baguio Country Club, Green Valley.

Skating. There's a covered skating rink at Burnham Park, lthat has recently been turned into an amusement center. Rollerbladers can strut their stuff all around Burnham Park, too.

Paintball & Rapelling. Paintball, rapelling, a zip line and rock climbing wall are available at Camp John Hay, while private live ammunition target shooting ranges may be found located in town.

Exercise & Fitness. There's a large gym at CooYeeSan Mall on Naguilian Road, and many smaller gyms can be found all around the central business district and in the malls. These fitness centers usually have a "member-for-a-day" program that cater to visitors who do not want to break their routines. There are free tai chi and aerobics exercise sessions on Burnham Park early mornings.

Manny Pacquiao Training in Baguio City @Baguio Insider

©2012. All Rights Reserved. GoBaguio! Your Complete Guide to Baguio City, Philippines

Did you enjoy this page and find it useful?