How to Get to Baguio by Land and by Air
Transportation Guide to Baguio City
Baguio City is such a popular destination in the Philippines that there are many options to get here.

By air, there is one daily flight to Baguio from the domestic airport in Manila. By land, there numerous bus trips that leave at all hours from the different terminals both from Manila and other Luzon provinces in the Philippines.

Flights to Baguio are a short 45-minute trip from the airport in Metro Manila. They will take you directly to Baguio CIty's Loakan Airport which is located just about 5km from the city center. Taxi cabs are waiting to pick up passengers right outside the terminal, so getting out should not be a problem.

Sky Pasada is the carrier that now has
flights to Baguio
. During the Philippines' wet season (July to September), however, flights may be cancelled. 
Update Oct 2012:
It seems Sky Pasada has suspended/cancelled their Manila-Baguio route.

Contact Sky Pasada at this number 632.912.3333

Manila Office

Corcel Arcade, BAC1-11,

Airport Road, Pasay City,

Philippines 1301

Telephone: (+632) 553.4795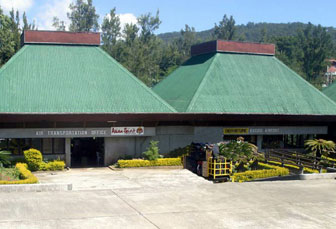 View of the Loakan Airport in Baguio City, Philippines from the tarmac. There is usually one flight daily Manila-Baguio-Manila via a local carrier.

From Manila & Provinces South of Baguio:

From Baguio to Northern Provinces and the Cordilleras:

Farinas Transit plies the route that leaves Baguio and heads for Vigan, Ilocos Sur and Laoag, Ilocos Norte.

Partas Transport Company has trips to Vigan and Laoag as well as to the provinces of La Union and Abra.

Lizardo Trans has several trips daily to the Mountain Province towns of Bontoc, Sagada & Besao, while KMS and Ohyami Trans travel to Ifugao province.

For more information regarding routes, schedules and rates, please contact these companies directly. Their telephone numbers are listed at the
Baguio Directory
.
Traveling to Baguio by bus is one of the most popular ways to get here. Airconditioned bus trips to Baguio leave Metro Manila every hour every day. The popular buslines are Victory Liner, Dagupan Bus Line and Philippine Rabbit. One-way bus tickets to Baguio cost about Php350-450 per person.

Travel time is about 6-7 hours because the buses usually make two stops for meals and necessities, and pick up passengers along the way when there are vacant seats. Another reason is that getting out of Metro Manila traffic alone sometimes takes one whole hour!

Luxury bus trips are now being offered by Victory Liner (De Luxe) and Genesis (JoyBus) that travel non-stop to Baguio City in 4-5 hours. These buses have their own toilet, WiFi, two TV/Video monitors, wider seats that recline fully with leg and foot rests. A stewardess serves a snack and drink. Genesis JoyBus even provides a blanket for each passenger to use during the trip. One-way tickets cost Php650-720.

Baguio Office

Laoakan Airport

Baguio City, Philippines 2600

Telephone: (+6374) 305.1633

©2012. All Rights Reserved. GoBaguio! Your Complete Guide to Baguio City, Philippines

Did you enjoy this page and find it useful?