Twitter Baguio
Here is a summary of the latest tweets from Baguio at Twitter!.
You may prefer to get them on your own by
following me on Twitter
.
What do I tweet? Everything that's happening here. Get updated when I publish a new page at GoBaguio! or a post at the blog. And also the latest Baguio news and Baguio weather updates, and little snippets about life, including Manny Pacquiao training in the City of Pines, or what's happening at Lepanto Mines, or scheduled power outages, or road conditions along the way to the Summer Capital of the Philippines. Oh, okay, sometimes I cannot help making commentaries about politics.

But here is my most solemn promise to you -- I will NEVER tweet "I woke up this morning, ate breakfast, and walked the dogs."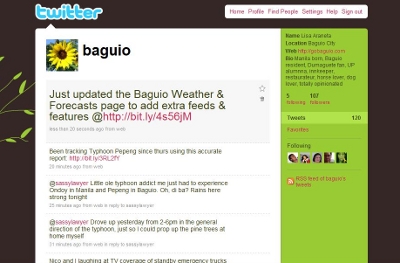 in order to give visitors

  better weather news

  coverage and forecasts,

  Baguio Weather now has

  its own page separate

  from the news
©2012. All Rights Reserved. GoBaguio! Your Complete Guide to Baguio City, Philippines


Did you enjoy this page and find it useful?