Baguio Cathedral
Our Lady of Atonement Cathedral
Few people know that

the Baguio Cathedral is actually named the Our Lady of Atonement Cathedral.

The majestic church located on top of a hill in the heart of the city, it is one of the more familiar icons and
most visited landmarks
of the city. Its beautiful rose-colored structure is distinguished from other churches in the Philippines by its twin spires.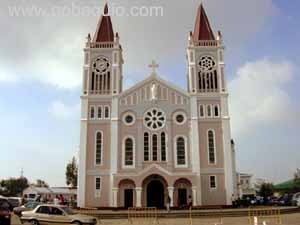 One of the country's' most beautiful architectural structures and easily Baguio City's most magnificent building, richly-decorated inside, it stands majestically atop Mount Mary Hill, with a wonderful bird's-eye view of Session Road and the city's landscape.

From
Session Road
it is accessible to pedestrians who ascend long concrete stairways of more than a
Schedule of Catholic

Masses at the Baguio Cathedral

The Baguio Cathedral is said to have been able to accommodate up to 850 persons for a single Mass, although I am pretty sure that includes those inside on both floors, and those outside where loudspeakers have been set up in order to accommodate a standing room only crowd, expecially on Sundays.

Parking is free during Mass hours, and for the first hour for visitors and tourists on ordinary days.

However, since most Baguio residents, office workers and visitors to Session Road leave their cars in the Cathedral parking lot for hours at a time, all week-long, they have decided in recent years to charge a nominal parking fee on the 2nd hour onwards, which I think is only fair.

Planning to Hold Your Wedding in Baguio?

Finally, I leave you with a video of a wedding held in June 2007. The bride originally was choosing between two churches in the City of Pines. The other option was St. Joseph's at Pacdal.

Weddings at the Cathedral are always held in the mid afternoon, which is perfect for the couple to be able to freshen up and attend to other matters; like formal photo shoots, prior to their wedding dinner reception.

I have included this video to give you a glimpse of the Cathedral's magnificent interior and the wonderful beginnings of Jeff and Gel's married life.

Masses are celebrated in English except when Ilocano or Tagalog are indicated:

Sundays &



Holidays of Obligation





















Saturdays







Mondays Thru Fridays      

4:00 pm

5:00 pm

6:00 pm

5:00 pm

7:00 am

5:15 pm

6:00 am

7:00 am

8:00 am (Ilocano)

9:00 am (Tagalog)

10:00 am

11:00 am

6:00 am

7:00 am

6:00 am

hundred steps, although cars may enter the Cathedral grounds quite easily via access roads behind the Baguio Post Ofice building. If you do not feel like climbing more than a hundred steps to the Baguio Cathedral, an easy way to get there on foot from Session Road would be to climb the escalators at the CICM-owned Porta Vaga Shopping Mall, exiting at the top floor that leads to the Baguio Cathedral parking grounds.

Since the Cathedral and Porta Vaga Mall share the same owner and general location, they also share the same parking lot, where a modest parking fee is charged for vehicles beyond the first hour.

Did you enjoy this page and find it useful?




©2012. All Rights Reserved. GoBaguio! Your Complete Guide to Baguio City, Philippines