Baguio City Market FAQs
How to Get There?

All jeepney routes start and end at the Plaza (which really refers to Burnham Park but all the depots are located closer to the market). So alight from any jeepney and walk to the Magsaysay Road entrances, or pass through the side entrance on Abanao Road, or the back entrance via Kayang Street.

I recommend riding a taxi cab instead of a jeepney, especially on your way back from the city market.

Bringing a Car?

There's paid parking available on the top floor of the Maharlika Livelihood Center, also at the basement of Abanao Square the mall right behind the market, and on an empty lot between Abanao Square and Empire Cinema. All these are acessible through Abanao Road

Folks park off
Session Road
, SM City Baguio,
Baguio Cathedral
and make their way down on foot. Others park on Otek St. or in front of City Hall and approach the market from behind.
Bought Too Much Stuff?

Don't worry, teenagers and older kids will be offering to carry your things for a fee when they see that your arms are laden with purchases -- all the way to your ride.

How much to pay them? I would say Php10.00 per bag.

Is Haggling Possible?

Yes. Haggling for a lower price is not only possible, it is expected. Prices can go down especially for volume purchases.

Prices are based on the laws of supply and demand, and the demand is greater on week-ends and peak months, so you get a better bargain on a weekday.

TIp: Haggle softly and sweetly!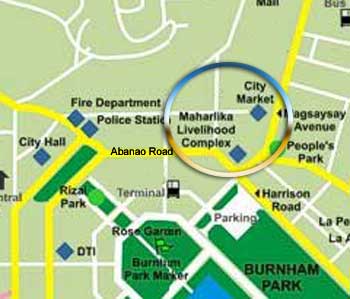 Need a closer look at the market's location?

©2012. All Rights Reserved. GoBaguio! Your Complete Guide to Baguio City, Philippines

Did you enjoy this page and find it useful?