Baguio Hotels, Inns, Resorts,
Transient Homes & Other Lodging
Baguio hotels enjoy a distinct advantage over other hotels in the Philippines: clear skies, greenery everywhere,

rooms with a great view of the mountains and a cool climate.

The good news is the available accomodations cater to a wide range of budgets. Below is a list of

the lodging types with price ranges for room rates to help you decide.

Based on statistics the Summer Capital of the Philippines has a total of 3,318 rooms in 90 resorts, hotels, inns and lodges accredited by the Department of Tourism (DOT). These numbers do not include accomodations that are not accredited by the DOT, as well as retreat houses and those private vacation homes that let out rooms to supply the great demand for lodging during the peak season.
•  There are more than 30 accredited standard and economy hotels here with rooms that meet the requirement of at least '18 sqm in size.' The rate for a standard room is about $90/night on twin-share.

•  There are three resorts here that offers "lodging, dining and recreational facilities conducive to healthful relaxation." Baguio Country Club, Camp John Hay and Green Valley are good examples. The rate for resorts ranges from $50 to $120. Cottages (7 persons) go for about $280.

• A tourist inn is one that "does not meet the standards" (e.g. room size is less than 18 sqm) or provide the wide range of services of a hotel.

Twin share rooms would cost about $35 to $55

•  A pension house is one with independent rooms, common facilities such as showers, cooking and dining. Usually $10 to $20 per person

•  Also very popular are those private vacation homes or "transient houses" that are let out as a whole or on a per room/person basis. The new buzzword for this is "homestay." The rate per person is anywhere from $8 to $15, depending on the location,  neighborhood and condition of the property.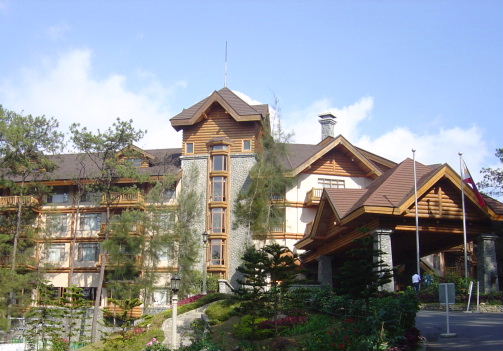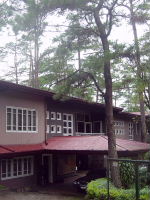 If yours is a large group and prefer to cook your own meals, select a "transient house" or an apartel. Try to find one with lots of space and a garden so you can have
outdoor barbecues
, too.
If you will be out touring most of the time, and do not mind sharing common facilities with other guests, choose a pension house.

If you prefer a more private and intimate setting where service is more personalized, choose to stay at an inn.

If you are on business or on a "structured" trip (regular check-in/out schedules), prefer to buy your food and drinks "in-house" and enjoy room service then choose a Baguio hotel or resort instead.

The City of Pines is also very popular for seminars and conferences, too. For company outings and workshops, I recommend booking an entire bed and breakfast inn for exclusivity. The same advice goes for reunions for large families or school homecomings.

Selecting the Right Accommodations for You

The Summer Capital of the Philippines is visited by many different types of travelers: tourists, large families on vacation, convention delegates, businessmen, wedding parties, honeymooners, budget travelers, backpackers...

Maybe this is why I never have a ready answer for that most popular question: "Which hotel in Baguio City would you recommend?"

©2012. All Rights Reserved. GoBaguio! Your Complete Guide to Baguio City, Philippines

Did you enjoy this page and find it useful?