Sagada Travel Guide - Go Sagada!
Sagada is a quaint little town in the Mountain Province, about 104km from Baguio City, passing through scenic Halsema Highway.
There are daily bus trips to get there, so folks generally use the Summer Capital of the Philippines as a jump of point to Sagada.

Visiting Sagada, more than just adventure travel, is being welcomed by a charming people who generously allow us to enter their daily lives, give us a glimpse of their culture, and proudly tour us around.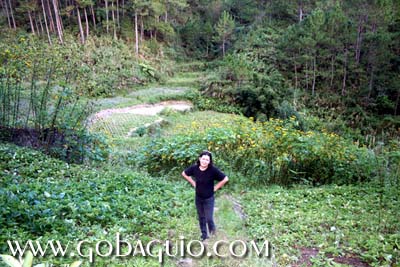 I have traveled to Sagada on many occasions, and each time I was enchanted by its caves, falls, the available cuisine (oh, Yogurt House and Log Cabin are my absolute favorites), the native handicrafts and its people. Its why I have decided to create a series of pages in this site devoted entirely to this wonderful place, and in line with
Baguio City'
s role as the
gateway to.the Cordillera region
in the Philippines.
The center of Sagada town is small and strewn around are inns, guest houses, home stays. There are many little cafes serving comfort food, more European in influence than American, I would say. Amid these are weaving and souvenir shops for tourists, a public market and small stores that are patronized by the locals.

Cheap, Quality Vacation. At this point, I must mention that a vacation in Sagada is one of the cheapest in the Philippines, ideal for backpackers, or those who want romantic getaways, or even for large group outings, and promise to give you an idea of prices as we go along.

There are just three roads so it's fairly easy to get around, even when one arrives by public transportation. Of course those who come with their own vehicles are at an advantage since getting around to see the sights is so much faster and less tiring.

Tourism Center.
The first stop for visitors would be the municipal hall where tourists are asked to register and pay a miniscule fee of Php20.00 (
click for currency converter
). It is located very near the bus and jeepney stop where one alights upon arrival. Beautifullly illustrated maps of Sagada are also available for sale at Php25.00 each.
Should one arrive without prior hotel reservations, the tourism desk there is ready to help with a list of lodging establishments and contact numbers. During peak months, even the centrally-located St. Thomas Hospital is used as alternative lodging!

At the municipal hall, one can book tours that use accredited experienced  local guides to go sightseeing or exploring different tourist attractions. There are many beautiful places to see and things to do -- caves with fantastic natural formations, big falls and small falls with swimming basins, a pottery center, hanging coffins, an underground river.

Enjoy Nature at its Best. If one's purpose for visiting is to relax, then one can simply take in all the unspoiled natural beauty of the place with long walks of exploration and wonder. If excitement is what you are after, then caving and rock climbing might be the activities of choice, and are in fact the reason a lot of folks travel to Sagada for. A lot of hiking and trekking is involved in getting around.

Sagada's tourist attractions are perfect for those with a yen for adventure travel, whether amateur enthusiasts or expert climbers or spelunkers. And after all the exhilarating activities, the town provides visitors with a fine choice of restaurants for the an appetite made voracious by all that physical exertion.

Business Curfew. Since most activities are done in the daytime, there is a "curfew" at 9:00p.m. as all business establishments must be closed by then. Visitors are of course welcome to still walk around, or maybe have a bonfire, but in all my trips there, dinner was always at 7:00 p.m. and then straight to bed, for the next sunrise brings the promise of yet another beautiful day of adventure in Sagada.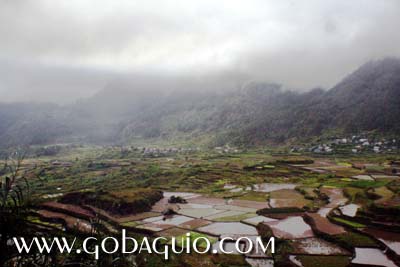 A rare photo of me on this site -- it's just that this is the only one I have like it, showing a lovely field of wild sunflowers and other flora and fauna. A lot of areas in this little town look like this! Taken while hiking to Matang Cave and the Underground River.

      Coming Soon!

Major Tourist Attractions

View of Sagada's rice terraces, misty mountains and residential areas on the road to Sumaguing Cave

©2012. All Rights Reserved. GoBaguio! Your Complete Guide to Baguio City, Philippines

Did you enjoy this page and find it useful?