Baguio Attractions
Camp John Hay: Butterfly Sanctuary
The Butterfly Sanctuary at Camp John Hay was designed around the Little Mermaid Garden that was built by American soldiers decades ago when this premier Baguio attraction was still a U.S. Armed Forces recreational facility in the Philippines. The bronze mermaid statue amid a topiary garden is now surrounded by hundreds of lovely butterflies fluttering around the flowers and plants.

One of the new attractions created in
Camp John Hay
upon its reopening to the public in the late 1990s, the Butterfly sanctuary can be found right past the CJH-CAP Convention Center after entering the main gate on Loakan Road.
You will see a medium-sized open air structure covered by a light green mesh. There is a minimal entrance fee of about is charged for its upkeep. No time limits are set for visitors but they may limit the number of folks inside at any one time.

The best time to visit the Butterfly Sanctuary is during fair weather because butterflies tend to be more active on a sunny day, as the caretaker will tell you. You can learn more from him about these lovely creatures and he'll sometimes help you actually touch them during your visit.

A Little More About Butterflies

Butterflies are the most splendid creatures among other insects, their wings covered by millions of scales that efficiently reflect daylight and produce different pure colors assembled into mosaic figures, which is why some folks call them "small masterpieces of digital art."

Like all insects, butterflies have six jointed legs, three body parts, a pair of antennae, compound eyes, and an exoskeleton. They are the most conspicuous of insects, though, given away by their gaudiness and the broadness of their wings.

A butterfly garden is an easy way to see more butterflies and to help them, since many natural butterfly habitats have been lost to human activities like building homes, roads and farms. They are commonly associated with plants, and the relationship is sometimes complex because while helping to pollenate the plants (although not as efficiently as bees), some species of butterflies tend to eat them, too.

While butterflies are most active in fair weather around mid-morning and late afternoon, some butterflies, however, are active year-round and all day so the more observant you are, the more butterflies you will see.

The general rule when planning a visit to the Butterfly Sanctuary in Camp John Hay is to go on a bright, sunny day. The less windy and the warmer it is, the more butterflies you will see! And what a treat it will be, especially for the kids.

Don't forget to bring a long a camera as lots of delighful photo opportunities await all guests at the Camp John Hay Butterfly Sanctuary.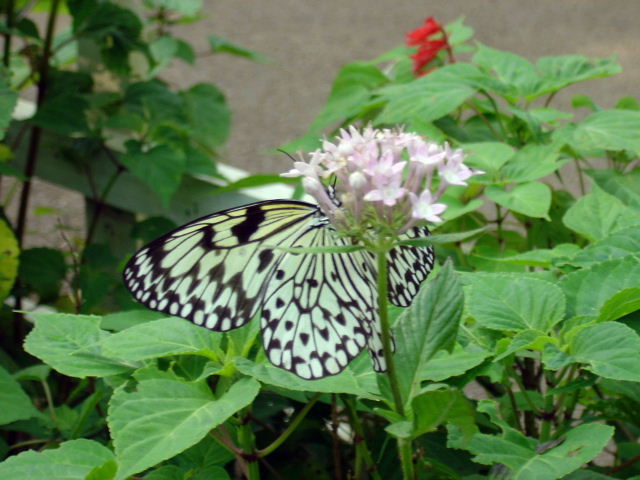 The bronze little mermaid peeps from her post at the

Butterfly Sanctuary at Camp John Hay.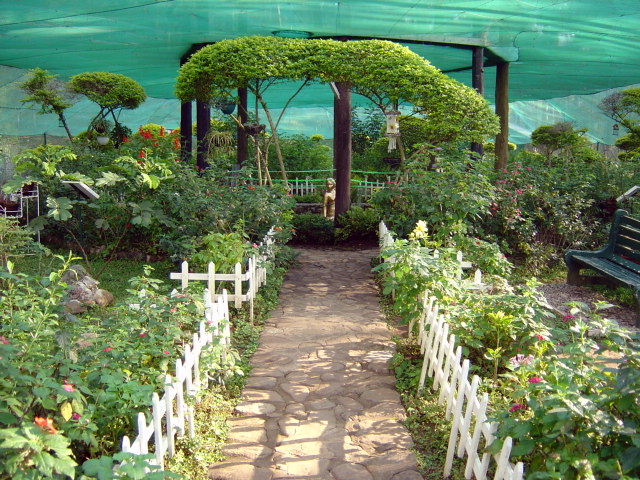 How to Get There

If you are entering via the Main Gate of Camp John Hay, keep going for a few hundred meters, past the CJH-CAP Convention Center. The Butterfly Sanctuary will be to your right.

If you will be coming from the 2nd Gate the one that is accessed via Country Club Road, then drive past Mile Hi Center and The Manor Hotel and head towards the Main Gate. In this case look for the green mesh covered structure to your left.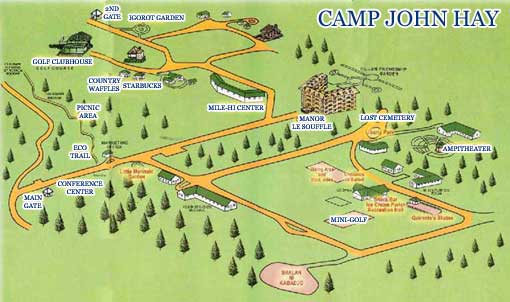 The above Camp John Hay map indicates the Butterfly Sactuary as the Little Mermaid Garden. You may also wish to view this
map of Baguio City
instead.
©2012. All Rights Reserved. GoBaguio! Your Complete Guide to Baguio City, Philippines

Did you enjoy this page and find it useful?