Camp John Hay in the 20th Century Remembered
by Lisa C. Araneta
My first visit to Camp John Hay was in the early 1970s as a guest of Joe Montemayor, who was then a Filipino immigrant to the United States.
We had formal dinner at the Main Club where my brother and I were told to be on our best behavior as 'children should be seen, not heard.'

It was a cold December night and we were all bundled up, with our finest clothes underneath, for that

most magical of nights in a 'foreign' setting in what was simply the most beautiful place I had ever seen in all my life (of course I was only six years old then).

That was my first memory of Camp John Hay (CJH), and it was right at the beginning of my love affair with
Baguio City
, an affair that has lasted lifetime.
"FOR U.S. CITIZENS ONLY"

No Filipino used to be allowed inside the base except as a guest of a U.S. citizen, until Camp John Hay opened its doors to the public in the early 1980s. This was so because the U.S. subsidized the goods and services inside with their taxpayers'  money. Bowling was at a dime a game, candy bars cost a quarter. Food, liquor and cigarettes, imported from America, were cheap and tax free.

But my favorite cousins, the McCanns had moved up to Baguio City in 1975, and they were U.S. citizens. So when we were were old enough to be allowed to explore on our own, we just used to walk to the Main Gate from their house on Wagner Road, and explored beautiful Camp John Hay all day.

When 'rich,' we rode a base taxi to get around, and if 'poor,' which was most of the time, we explored a lot on foot. Base taxis had passenger limits, we noticed, which the Philippines did not set at that time for taxi cabs.

All prices in this American recreational facility for their Armed Forces in Asia were in US currency, and when converted to its Philippine peso equivalent, the cab rides were considered pretty expensive.

Later on, in the mid 1980s) shuttles were made available from the three gates of Camp John Hay at much cheaper rates. I guess they were there for the Filipino employees working there but the public was welcome to ride them, too.

There were three entrances to Camp John Hay then: the Main Gate was on the Session-Loakan-Military Cut-off-South Drive roundabout. The second gate was accessible from Country Club Drive near Baguio Country Club and a third gate at Loakan Road where employees and trucks and other big vehicles used to pass as this was near the utility areas, like the fuel station, the fire station and the water station.

(The former service entrance is now the Main Gate, not as impressive nor as accessible to the general public as the old Main Gate was, which was closed by the developer to accommodated a redesigned
golf course
l)
A TASTE OF AMERICA

For Filipinos, 'brainwashed' for a whole century to love all things American by pretty effective propaganda, Camp John Hay was, for a brief moment, a taste of clean American living. In fact, Camp John Hay and the rest of Baguio City for that matter so looked like America that it was the Honeymoon Capital of the Philippines for Filipino couples or chose not to (or could not afford to) go abroad after their wedding.

Base workers were paid in U.S. dollars, at a much higher rate compared to the local wages in the Philippines. They received excellent training in sales and customer service. A lot of the foods sold were shipped to the Philippines as  "ready to cook" items so bakers did not have to make pies, for example, from scratch. All they had to do was open a can, pour the filling into a pre-made pie crust, stick in the oven and -- voila -- good old American apple pie!

For American servicemen, it was a cool place to relax, and when ships docked in Subic Bay, a US Naval Base inthe Philippines, they would go up to Baguio City by the hundreds. Of course this was the cue for the "unescorted" ladies (if you know what I mean) to come up to Baguio City, too, and hang around Halfway House hoping to meet an American "Joe."

I never experienced the rowdy night life of Camp John Hay but got to meet a lot of folks in later years who would nostalgically say, "Ah, I had good times in the Philippines

-- In Clark, Subic and John Hay. Got my 'early education' there ..."

For visitors from Manila and resident of the City of Pines, when Camp John Hay opened its doors to the public in the early 1980s, life there was was all about golf, pinball machines, and Hershey's bars, burgers and apple pie.

For me it all so magical, being transported to another time and place "when life was slow and oh so mellow."

THE BEST HANG OUTS

(BEFORE THE TURNOVER)

Teenagers used to flock to MILE HI, where there was indoor recreation: bowling, billiards, foosball, pinball machines and cheap burgers, soda and pizza.

Parents went to 19TH TEE for  golf, fast food and Tee Bar for unwinding after a game late in the afternoon.

Those who wanted to party would enjoy live bands at HALFWAY HOUSE (that served everything from breakfast, to lunch, snacks, dinner and cocktails).

Formal dinners and conferences were always held at the MAIN CLUB.

Sundays were spent at Scout Hill for Catholic Mass at the CJH Chapel and lunch at LONE STAR, and playing catch at the field outside.

Then there was the indoor SKATING RINK with a gym below near Mile Hi, the BASE THEATER where we could watch the latest movies from the U.S. and buy chocolate bars from vendo machines (oh we had to use quarters, dimes and nickles for that) and buckets of popcorn (they had buckets even then while the in the rest of the Philippines popocorn at the movies was served only in small paper bags).

Coming Soon, PART 2

"In 1991, a year after the devastating earthquake that rocked the City of Pines, all U.S. Bases in the Philippines were turned over by America upon the expiration of the RP-US Bases Agreement. This was the year also of the Mt. Pinatubo eruption ..."

Built in the early 1900s, the Main Club was an elegant structure that had the most magnificent view of the Cordilleras. This photo is from the Bill Fabianic collection.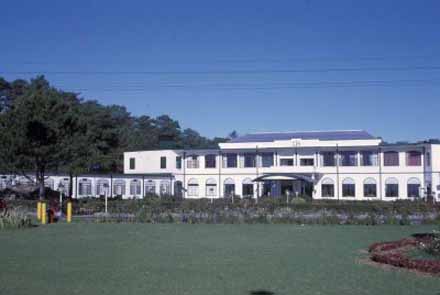 ©2012. All Rights Reserved. GoBaguio! Your Complete Guide to Baguio City, Philippines

Did you enjoy this page and find it useful?