Maryknoll Ecological Sanctuary
Baguio City's secret garden takes visitors on a cosmic journey of discovery
The Maryknoll Ecological Sanctuary takes visitors on a journey on the evolution of the universe in 14 stations in a serene garden.

After the 1990 earthquake that hit Baguio City, the Maryknoll Sisters decided on an alternative way to use their resources in the City of Pines and converted their elementary school as a venue for education still, but this time to focus on the fragile environment that is the planet Earth.

Thus they created a serene environment where folks can go on a peaceful stroll, a secret garden of sorts that offers peace and serenity in the middle of a bustling city.

The Maryknoll Ecological Sanctuary is exactly what

its name offers, a quiet

haven of greenery providing a respite from modernization,a place where folks can enjoy nature.

More Information on

How to Get There, Fees, Hours, Etc.

Location:
The Maryknoll Ecological Sanctuary is on the old Santo Tomas Road in Campo Sioco (view interactive
map of Baguio City
), a residential area off Burnham Park, accessible both from Legarda Road and Marcos Highway. As it used to be the old Maryknoll School in Baguio City, most folks know where it is when you ask for directions to "Maryknoll."
Please do not be misled by the street name, because although it is on the way to Santo Tomas Mountain, it is closer to the city center than it is to Baguio City's highest peak.

By private transport: Pass through Marcos Highway heading towards Manila, turning right at the Petron Gas Staion at the BGH Rotonda area. On the second road to your right, turn right and make a left turn on the first road to your left. The property is to your left and hard to miss.

By public transport: Take a jeepney that is heading towards Bakakeng or Green Valley and get off at Campo Sioco (ask the driver to make sure to drop you off at the corner) and walk inwards, turning left on the first street you see and walk up a few hundred meters until you see a driveway to your left with the sign Maryknoll Ecological Sanctuary.

Taking a taxi cab from Burnham Park should cost only about Php60 (about USD1.50) so if there are about four in your group, that's just a few pesos more than if you were to take a jeepney.

Business Hours: Open daily from 8:00 a.m. to 4:00 p.m.

Entrance Fees: A modest entrance fee of Php35 (about USD.70) per person is charged for the maintenance of the property. Unlike resorts, the Maryknoll Ecological Sanctuary does not charge extra for food and beverages brought in from outside.

A great place for picnics, quiet getogethers and even team building activities, everyone is welcome to come and enjoy the Sanctuary.

As one enters the former school building one will notice that one of the classrooms have been converted to a store that sells eco-products like stationery, posters,.postcards and paintings while another classroom now serves as a cafe. To get to the gardens, one decends stone steps to enter a whole new world of inner discovery.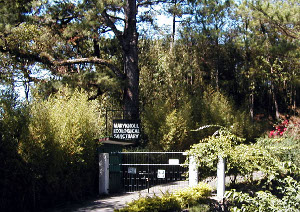 ©2012. All Rights Reserved. GoBaguio! Your Complete Guide to Baguio City, Philippines

Did you enjoy this page and find it useful?