Getting Around in Baguio City
Exploring the Summer Capital of the Philippines by car or partially on foot has never been easier with public transportation readily available all hours of the day and night.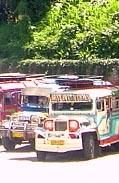 1. Taking a cab - Taxis are plentiful here. Currently, the rate flags down at Php35.00 for the first 500 meters, with Php2.00 per 100-meter increments thereafter. All Baguio taxi cabs are painted white and have the proper  identification markings on them.


Advantage 1: There's an oversupply of taxis just wanting your business

and they can actually be hired for the day to tour instead of waiting for

fare (about Php200-250/hour for 4 persons).


Advantage 2: Riding a cab is cheaper that 'gassing up' and finding parking

in town.


Advantage 3: The drivers give you the exact change!

Advantage 4: Many taxi drivers work nights.
2. Riding a jeep - Not recommended really, because it's slow and cumbersome. There's a lot of time wasted riding the famous Philippine jeepney. But if you would like to experience riding in one, know that the rate starts at about Php8.00/person.


Disadvantages: Too many routes so it can get quite confusing. They 

all just go downtown and back, stopping every few meters to pick up

passengers and let them off. One must to wait for the jeepney to get

filled up before it will go. Taking a jeepney is not much cheaper than

riding a cab when there are four (4) of you riding one. Jeepneys ply their

routes only until the early evening.

Advantages: If you are a group of 10 or more, you can also hire a

jeepney for the day to take you around (about $20 for 10-20 persons,

within the city). They can even be hired to take you on a day trip

out-of-town to the beaches of La Union or Pangasinan that are about

1-2 hours away, which should be fun, too.
3. Taking your car - If you have young children with you, or if you are bringing a driver, take your car everywhere. But if you are all teenagers and adults:

To places of interest outside the Central Business District, yes!

The "yes" places have ample parking, you see. Otherwise so much valuable time is wasted just looking for a spot. For Camp John Hay, it is most necessary because the taxis are restricted from going in and out. So one has to walk miles to the exits and hail a cab outside.

4. On Foot
-  Ahh, this is my preferred mode of exploration! But not COMPLETELY on foot, of course. I park the car some place convenient, then explore on foot. I would take my dogs with me (the huskies love the exercise). You will see folks strolling in our beautiful
Parks & Gardens.
It is most romantic and a healthy way to go.

You can try my favorite combo:

1. Park your car at the
Baguio Cathedral
or SM City Baguio (both are on Upper Session Road on either

side and have ample parking -- cost about php30).

2. Make your way down Session Road on foot, crisscrossing to each side via strategically located

pedestrian lanes so you don't miss anything. Keep going downhill until you reach the
Baguio City Market
.

3. When you're done with the market take a cab back to where you parked your car. The taxi ride costs

just about $1.00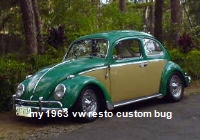 Car or Van Rentals in Baguio

There are a number of vehicles for hire for trips within the city or for short out-of-town sojourns

Car rental companies are listed in the local Telephone Yellow Pages and the
Baguio Directory.
These come in 'self drive' or 'with driver' options 
There are many private rentals advertised in our weekly paper, Baguio Midland Courier classified ads section.

You may also want to ask your hotel concierge or inn manager, if necessary, to hire one on your behalf.

Vehicles are restricted from passing the Central Business District on weekdays, based on the last digit of the car plate.

Taking a Taxi From Loakan Airport

Taxis are available right at the  airport parking area. They are to charge you the regular fare. Do not accept a 'contracted rate.'

In case your cab driver insists on a contracted rate, please report him to the local authorities -- just list down the  car plate number and/or the taxi name!

Why is Riding a Cab in Baguio Cheaper than in Manila?

Because our taxis are not air conditioned, plus everything in Baguio is close by so they're not bringing you very far really. Plus, did I mention that our cabbies are honest and give you the exact change?

      A D D I T I O N A L   I N F O

©2012. All Rights Reserved. GoBaguio! Your Complete Guide to Baguio City, Philippines

There are four ways of getting around the city 

Via private transport, by taxi, by jeepney, or on foot. Since Baguio is not a very large city, and with all its major
attractions
located close to each other, it's not really very difficult to get around. Public utility vehicles are the same types as those in other cities of the Philippines, with more or less the same inexpensive rates.
Did you enjoy this page and find it useful?