Special Feature
Panagbenga Survival Tips
Whenever one checks out Facebook or Twitter on the days preceding the very popular Baguio Flower Festival "Panagbenga" one finds a announcements that say, quite excitedly, "Baguio, here I come!"

And it is very heartening to note that folks, especially the young ones, still look forward to coming up for the Baguio Flower Festival (Panagbenga) despite concerns in recent years about how crowded it gets, how full parking is, etc.

Maybe I've just been listening to folks who expect to just
relax in Baguio
each time they come up. Of course it's crowded! And that's to be expected because the Panagbenga rose to the top of the Philippines' fiesta calendar as soon as it started.
Festive February in the City of Flowers:

February in the Summer Capital of the Philippines can never really be relaxing anymore as:

1. Valentines Day has tens of thousands of college students swarming all over the malls and squeezing into restaurants

2. PMA Week (2nd week) sees the gentlemen (and ladies) and their families coming up for the Philippine Military Academy Alumni Homecoming.

3. The Panagbenga, which is held the whole month and peaks on the 3rd weekend, is exciting, vibrant, eventful with many things going on at the same time. With City of Pines being such a small place, and with almost all activities centered on Session Road and Burnham Park, expect that thousands of people will squeeze into available spaces in these areas to catch a glimpse of the parades.

Tips for Your Baguio Visit During the Panagbenga

A. Before coming up, know that you will be doing a lot of walking, so –

Plan your itinerary. Check out the events schedules and their locations so you don't "zigzag" across Baguio.

Book your lodging accommodations early. Those who believe there will be suitable rooms available upon their arrival should think again, especially with young kids in tow, and with chilly weather like this. As much as possible select an inn or hotel along Session (also roads like Governor Pack, Calderon, Assumption, Abanao) or Burnham Park (Kisad & Legarda), at most 1km away like those along Leonard Wood, Navy & CM Recto, Upper Session & Military Cut-Off.

Check the weather a few days before your trip so you know what to pack. A searchable weather sticker and 5-day forecast is available here.

Pack comfortable walking shoes. Know that there will be very little or no parking in the festival event areas, that your car can only take you as close as possible and then turn back. Traffic to Session & Burnham will be bumper-to-bumper and you may want to get off and walk the rest of the way.

B. While you're here –

Get your supplies from the groceries and market early if you intend to do your own cooking. Plan your meals so you can save. For your reference, please check "Eat-in or Dine-out? and Baguio Restaurants.

Secure your belongings. You'll never know … with large crowds come our "transient" thieves (those who hit our guests one-time-big-time and then scurry back down to the lowlands). Wear your backpack in front.

Be conscious of your personal safety. If you're staying in a thickly-populated area (lots of transient homes are located in such places) remember that many residents and visitors will be in a drunken holiday mood and so do not walk alone, and avoid passing those sari-sari-store-and-monobloc-table-by-the-road-gin-drinkers. Walk in groups and limit yourselves to well-lit areas.

If you're watching the parades on Session Road, secure a seat early on the 2nd floor (find a suitable restaurant and stay there) so you get an unimpeded view. If you choose to stay on the sidewalk, you will be many persons deep. Know that the floats, streetdancers, bands will all end up at the Melvin Jones grandstand so that's a good place to watch from, too.

If you spot a pretty girl in a bar, think twice about even talking to her as a local boyfriend or suitor might get offended and challenge you to a "duel" (this means he has a whole group backing him up). The best way to meet a girl is during the day, and make plans to meet up with her and the all-girl barkada later in a nice, wholesome area like Camp John Hay or Session Road or maybe to have a barbecue at your vacation home and just party there.

If you miss out on parts of the parades know that you can probably watch them on TV the same night or the next day, but this time you will have to suffer the shallow commentators that the TV stations assign to cover these events. The older folks may prefer to stay home and avoid the crowds and watch the event coverage instead, but lemme tell you, there's nothing like being there yourself!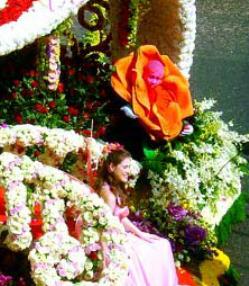 Consider taking cabs to move around in, especially in the Central Business District (Session, Harrison, Magsaysay, Bonifacio, Abanao) as you can just get on and off whenever you want. Plus the flagdown rate is just Php35 and drivers give you the exact change.

Bring an umbrella, whether or not it's going to rain. It can act as your walking stick, you see. Plus our skies are so clear, there's so much direct sunlight at midday. February was chosen for the Panagbenga because the weather is generally great, except that one year that it literally rained on our parade, 2001, if I remember correctly.

Consider coming up a day early or staying an extra day, so that you can enjoy the Summer Capital of the Philippines some better on a "perfect weather month" — as the Panagbenga events may be so hectic that you will not be able to take in the other sites and delights of the city.

Did you enjoy this page and find it useful?




©2012. All Rights Reserved. GoBaguio! Your Complete Guide to Baguio City, Philippines