Best Homegrown Baguio Restaurants
I always say you can turn your Baguio vacation into a culinary adventure in itself!

Here is my personal list

of favorite restaurants that are exciting, consistently good and provide good service. Plus they are all easy

on the tourist's budget, as most Baguio eateries are.

With are many new coffee shops, bistros and other dining places sprouting all over the place I figured it would be more prudent to

recommend those restaurants that we know are here to stay. Once in a while I do blog about new places to try, and I will make sure to include links to those posts on this page.

Our malls (yup, we now have malls!) may feature the different franchises that have mushroomed all over the Philippines, but my list will contain only those homegrown restaurants that cannot befound anywhere else, except in the City of Pines.

After all, why come all the way to Baguio City and sample McDonald's?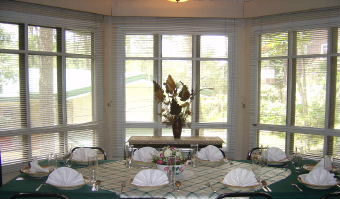 8. Pizza Volante

Session Road - with 24 hour dine-in and delivery service. Great pizzas and pasta at very good prices.

9. Rose Bowl

New location at Gen. Luna Road - One of two classic Chinese restaurants with family-style service.

10. Star Cafe

Session Road - The other classic Chinese restaurant famous for their Star Rice and Joey Rufino's personalized service.

Here Goes...

1. Bliss Cafe

Gibraltar Road (Hotel Elizabeth lobby) - awesome vegetarian dishes prepared by Jim and Shanti Ward that DO NOT taste like vegetables at all!

2. Brod Pitt

Good location at Leonard Wood corner Brent Road with really good garlic crispy pata, nice ambience, parking, and it stays open till very late. Avg check php300

3. Cafe by the Ruins

Otek Street - ethnic cuisine like native chicken, mountain rice, strawberry wine presented in creative ways.

4. Eve's Garden

Lamtang Road - finding it is an adventure in itself and definitely worth the trip with 10 varieties of organic lettuce freshly picked from Evelyn Bond's garden. By reservation only,

5. Hill Station

Upper Sesson Road - opens till late, smoking allowed, park along the road though but in a great location with nice ambience and good food.

6. Little John's

Camp John Hay - a place as happy and bright as the owner Jonet Flavier, where kids get to color on the menu while waiting for the food. Must try their chocolate fondue with strawberries, banana and marshmallows.

7. O'Mai Khan

Upper Sesson Road - the old favorite all-you-can-eat Mongolian barbecue place with lots of crisp highland veggies.

Where NOT to Eat in Baguio (new!)

Please avoid eateries and food stalls like those found on
Burnham Park
on the West Side. These are called "
turo-turo
" or "
carinderia
" where the food is not necessarily  hygienically prepared, where the viands are kept in aluminum pots and are allowed to stand at room temperature the whole day. Reheating these viands before serving will not always get rid of all the bacteria.
My guests who came all the way from Bicol thought that they would sample 'authentic' Baguio food by trying the
turo-turo
but, not only did they find the serving portions small, the taste disappointing and the food not representative of
Cordillera cuisine
, they were charged an amount comparable to dining in a full-service restaurant!
And, of course, one should eat only well-prepared nutritious food and never risk getting ill while on vacation!

©2012. All Rights Reserved. GoBaguio! Your Complete Guide to Baguio City, Philippines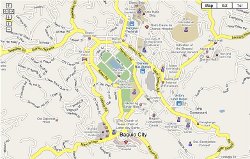 Did you enjoy this page and find it useful?