Ponies with Pink Hair
Visitors to our premier horse back riding area,
Wright Park Riding Circle
, are usually surprised to see a white pony with a shock of pink hair, or sometimes a brown one with a bright orange mane.
Here are some tips for your child's first ride:

1. Get your child excited about the experience. Tell him what to expect, walk around the area first and point out other little kids who are riding, too.

2.
Wright Park Riding Circle
is the best for first-timers as there is an inner ring for those who just want the horse to walk; the outer ring is for more experienced riders who make the horse trot or canter. Plus here parents can watch their kids and document the ride with photos and videos.
3. If he is afraid do not force him. Wait another year, until he gets a little bigger and himself asks for his first ride.

4. If he agrees, contract the ride for only 30 minutes first. You can always extend.

5. The Pony Boy might ask you if you want the child to go on
trail
. Do not agree to this. Your child should be a little more experienced in handling a horse before going on trail ride from Wright Park, as they will be passing the streets and there are many awful drivers out there who enjoy "spooking" the animals by blowing their horns.

Update: Should you choose
Camp John Hay's
Shalan di Kabajo instead,

your child will have no choice but to go on trail. But this trail is good as

it does not pass any roads.
6. If someone has to ride behind your child, the best one to do it is the guide, not the yaya (nanny) because she won't know how to control the animal in case it breaks into a run. Your kids will be safe with the them as they are experienced, honorable and take pride in their work. I recommend you choose the older ones, especially those in cowboy attire (because they are of the "old school" and their families have been doing this for generations). Teenage guides are usually mere assistants and are not as experienced, of course.

7. Make sure your child stays in the Inner Ring. Take photos up close at the start and at the end of the ride. Zoom in for photos taken while he is in motion. PLEASE DO NOT WALK ACROSS THE OUTER RING TO GET A BETTER PHOTO.

Lastly, please know that Wright Park is on the hill above the Wright Park Riding Circle. It is one with the long stairs leading to the gazebo and Pool of the Pines across
The Mansion
. So the Riding Circle is NOT a park. Only horses and riders are allowed in the ring.
Do this right the first time, your child will have many happy memories like I did. My first experience at the age of 6 or 7 years led to formal lessons at D'Rossa in Manila, to as many summers and weekends spent in the City of Pines, to my first thoroughbred named Jupiter with whom I explored all the possible Baguio trails including Mt. Santo Tomas, and to my second named Santiago who really ate like a horse! And many decades since my first ride, I still get that feeling of excitement every time.

©2012. All Rights Reserved. GoBaguio! Your Complete Guide to Baguio City, Philippines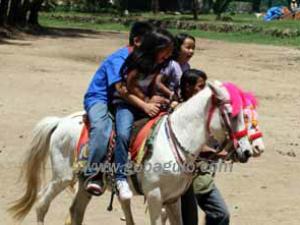 Did you enjoy this page and find it useful?




In recent years, the Pony Boys noticed that children prefer white horses (thinking they're "mas mabait," i.e. "nicer" or "gentler" than the brown ones). And to make them even more attractive to customers, have taken to:

puttiing a little pink paper flower on their hair,

giving them "bangs by cuttting off a piece of the tail and attaching the extra hair to the bridle, or

dying their hair. manes mostly, hardly ever their tails to match the manes.

This was originally an article in my old blog that I decided to reproduce here, because it was a popular guide to getting one's child to enjoy his first ride.