Themed Baguio Recreation
"Kiddie Baguio"
Baguio City occupies a special place in the hearts of many Filipinos!
Because for a lot of folks, especially children, it is a place of many "firsts" -- first pony ride, first boat ride, many learned to ride a bike here. First time to see fog and pine trees, log cabins and fireplaces --  and petunias!

On my very first trip to this strange, magically chilly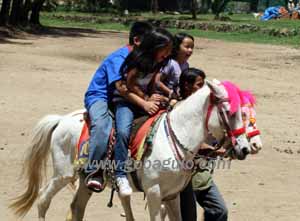 place in what I knew to be a tropical Philippines, I also experienced my very first camping trip. That experience is engraved in my mind so I remember when I first fell in love with the City of Pines, though I was just about four years old.

My dad brought us up to the Summer Capital of the Philippines in his customized VW Kombi, that he had outfitted with a refrigerator, bar, airline seats and a tent. It was not a Westphalia even, just a regular Kombi, by the way, and we camped out on a mountain top the first night and at a friend's yard the next. It was so much fun! 

Baguio City is a wonderful place for the kids, with good, old-fashioned, outdoor recreational activities that keep them busy and entertained. The key places are still
Burnham Park
,
Wright Park
and
Camp John Hay
. They have areas where sons can bond with their fathers just by playing catch, where cousins can get rowdy and play cowboys and Indians or place touch football.
Of course the City of Pines now offers a few 'modern conveniences' like game arcades or internet cafes to keep them busy while you go shopping in our malls, if that is your kind of thing.

In the end, it's all about childhood memories that will last your family a lifetime! All amid great natural beauty and documented with your favorite camera of course!

   And  of  Course,  Kiddie  Baguio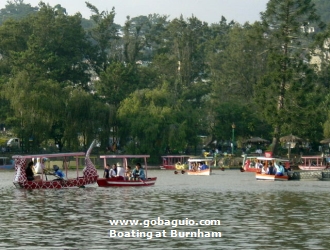 The pony rides at Wright Park Riding Circle are better for the kids because it's a ring, and lots of good photos and videos can be taken of them there. Plus there are 200 ponies to choose from, although sometimes the riding circle tends to get muddy when it rains.

"Shalan di Kabadjo" in Camp John Hay and Country Club are short trail rides, so you'll have to get on a horse, too, to be able to watch the kids on horseback, or take photos of the kids. Recommended for the teenagers and young adults.

Burnham Park works as "low-tech" amusement park for the kids. it has  (1) a wide biking area with bicycles of different sizes and shapes for rent,  (2) a covered skating rink with roller skate rentals available, (3) olympic-sized and kiddie swimming pools at the Athletic Bowl, (4) a children's playground, (5) football field at the Melvin Jones Grandstand.



Boating at Burnham Lagoon is of course the main attraction.


Watch the kids turn around in circles on their first try in those


rented rowboats! This man-made lake is pretty shallow, by the way,


but it's still best to take all safety precautions like riding in the


same boat or renting another one just to be close by.
Have the kids experience strawberry picking (usually from November till May) at the Strawberry Farm in nearby La Trinidad, Benguet.

The malls have video arcades and bumper cars (but do you really want to go there?).

Kiddie summer art lessons are offered at Botanical Garden and Tam-awan Village.

Take a photo of them dressed as natives, complete with bahag, shield and head dress at Mines View Park.

Treat the kids to their first outdoor barbecue or picnic at Camp John Hay or at the Picnic Grove in Burnham Park.

On a bright and sunny day, take them to the Butterfly Sanctuary at Camp John Hay to see and learn about butterflies "up close and personal."

Should you decide to stay that extra day in Baguio City, you may want to take the whole family on the underground tour at Balatoc Mines and picnic at Crosby Park.

©2012. All Rights Reserved. GoBaguio! Your Complete Guide to Baguio City, Philippines

Did you enjoy this page and find it useful?