Baguio Attractions
Tam-awan Village
Tam-awan Village is one of Baguio City's  "newer" attractions, having been created only in 1998 by the Chanum Foundation.

Located at the outskirts of the city, it is an artists colony set amid a charming collection of Ifugao and Kalinga huts. Getting there may be a little tricky but certainly well worth the trip.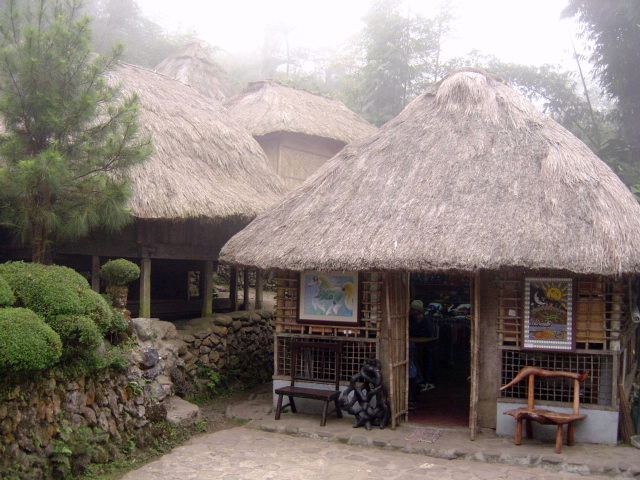 A minimal entrance fee gets visitors inside the compound to explore the grounds, which includes an art gallery and a coffee shop. The different native huts and other areas are used for workshops and exhibits. It is the best place to purchase a painting or drawing by one of the many well-known artists who have their artwork on display. One of my favorite purchases there was a beautiful hand-tooled leather clock by Rhona Carantes.

History, Traditions & General Information

Tam-awan in the local idiom means "vantage point," an apt name for a colony of Cordillera Huts that sit on a hillside that affords visitors a magnificent view of the South China Sea on a clear day.

The Chanum Foundation, Inc., started reconstructing Ifugao houses in Baguio with the intention of recreating a native village accessible to those who have not had the opportunity to explore the different parts of the vast Cordillera region in the Philippines, laying the houses out just like a traditional Cordillera village. Tam-awan Village is also a venue for art exhibits, workshops and other activities that showcase the rich cultural heritage of the Cordillera people.

Side Trip: Arko ni Apo

Right across Tam-awan Village is Philippine sculptor Ben Hur Villanueva's gallery-workshop-cafe and residence, where everyone is welcome to meet  him and see his artwork on display.

Having retired to Baguio after 30 years of teaching at the Ateneo de Manila University, Ben Hur Villanueva is a genial, lovely man, generous with his time, knowledge and experience, and simply a wonderful person to get to know.

How to Get to

Tam-awan Village

By car
-- from Burnham Park: take Harrison Road and go up Abanao Road and proceed to Naguilian Road. From Naguilian, turn right to Quezon Hill Road 2, which connects to Tacay Road. On Tacay Road, keep going straught till you reach a fork on the road, Take the road on the left and keep going until you reach Tam-Awan Village. See
Map.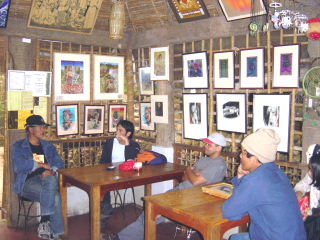 ©2012. All Rights Reserved. GoBaguio! Your Complete Guide to Baguio City, Philippines

By taxi cab -- just tell the driver take you to Tam-awan Village, Pinsao Proper. All cabbies know where this visitor attraction is located.

By jeepney -- take the Plaza-Quezon Hill-Tam-awan jeepney or the Long-long via Tam-awan Jeepney from Kayang Street, behing and above the Baguio City Market.

Did you enjoy this page and find it useful?