Baguio Local Products
Baguio's popularity as a top Philippine destination has spurred the production of a large variety of souvenir items, handicrafts and edibles familiar to Filipinos all over the world.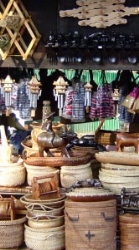 Oh, we have quite a lot -- from homegrown coffee to bee honey, from silver trinkets to giant wooden statues, from fresh vegetables and fruits to processed meats, from original artwork to home decor -- and I am about to tell you about them all.

The folks in
Baguio City
and the
Cordillera Region of the Philippines
also have this great ability to create their own wines, by the way. The most popular of these are the
tapuey
(also called
tapuy
or
tapey
), which is a fermented rice wine and strawberry wine, of course
Whether for your own consumption or as a business opportunity, this page will be your guide to finding out all that we have.

Bee Honey

Benguet is home to numerous apiaries that extract the sweetest honey from a myriad of wild and cultured flowers and plants, including coffee. Be careful to purchase honey that is 'branded' because some of those sold at the city market may be made from just sugar.

Benguet Coffee

Introduced by the Spaniards, the Arabica variety produced in the area and commonly referred to as Benguet coffee is the favorite beverage of the Cordilleras. Available at the city market, roasted coffee beans are sold by the kilo and ground while you wait.

Handweaving

Narda's is the pioneer and leader of all  original woven art, although the Easter Weaving Room has trained young women and kept these traditions alive for decades and decades now. Handwoven products can be found in all souvenir stalls at major tourist spots.

Edible Goodies

('Pasalubong' Items)

Peanut & Cashew Brittle, Ube Haleya (Purple Yam Jam), Strawberry Jams & Preserves, Choco Flakes, Lengua de Gato, 'Kulangot' (Coco Jelly) and a host of yummy products available everywhere-- at the market, bus terminals, souvenir stores.

Flowers & Plants

Cut-flowers such as roses,  chrysanthe- mums, marigolds, daisies, anthuriums, Malaysian mums, plus longer lasting varieties such as everlasting and statis are sold at the market. Exotic orchids, hyacinths, tulips, petunias and also make their appearance at the orchida-rium. Potted plants of all kinds are also for sale there and in other farms and stalls elsewhere.

Longganisa

Baguio longganisa are sausage links sold by the string with a strong garlic flavor that rival the Vigan variety. The smaller rounder links are referred to by the locals as "short-ganisa." Available at the Baguio City Market mostly, although there are a few outlets selling home-made sausage links.

Metalcraft

'The Last Supper,' 'Running Horses' are just some of the more popular themes of beaten copper and other metal works. Large mirrors with ornate hand-crafted frames are for sale at the Baguio City market and Mines View Park.

Silverworks

There are many silver shops offering an array of sterling silver or silver-plated treasures from jewelry pieces to hand-crafted filigree to silverware for your dinner table. The younger set enjoy a selection of the most modern and up-to-date silver fashion jewelry and trinkets.

Vegetables

And then there are our vegetables --  fresh, crisp, sweet and cheap, too! The Cordillera Region supplies the Philipines' daily requirements for highland vegetables. Lettuce, carrots, bell peppers, potatoes, cabbage, broccolli, cauliflower, mushrooms, chinese eggplant, zucchini and a whole lot more. And all these are available in Baguio and La Trinidad Valley.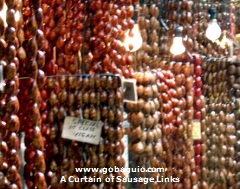 Fresh Fruit

Of course the Baguio strawberry tops this list that includes large seedless Sagada oranges, Sablan bananas, mangoes and pineapple, chicos, lanzones, rambutan, guava and santol.

Wood Carvings

These come in all shapes and sizes -- from 5-ft rosaries to larger-than-life statues of the Igorot warrior to the naughty barrelman or the naked woman back scratcher. These typically make their way to a Filipino home both in the Philippines and abroad. These are also  souvenirs items popular with foreign visitors to Baguio City.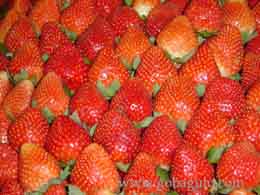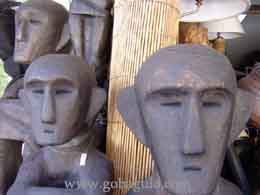 Garments & Other Export Items

The Baguio Export Processing Zone (BEPZ) is home to many large factories that manufacture apparel for such brands as Liz Clairborne, Gap, Dockers, Old Navy, Abercrombie and Fitch, Tretorn and a host of others. The two largest companies operating at the BEPZ are Texas Instruments Philippines, Inc., manufacturing computers and peripherals as well as Moog Controls Corporation Philippines, which manufactures airplane guidance systems, among others.

Furniture and Woodworks

Old Filipiniana reproductions, original Ifugao carved 'nail-less' furniture using rare pieces of Philippine hardwood such as molave, narra and kamagong can be found at the top floor of the Marharlika Livelihood Center.

You can find independent furniture shops all around the city, too. While some are original designs, most are re-sellers of items coming from the Woodcarver's Village in Asin.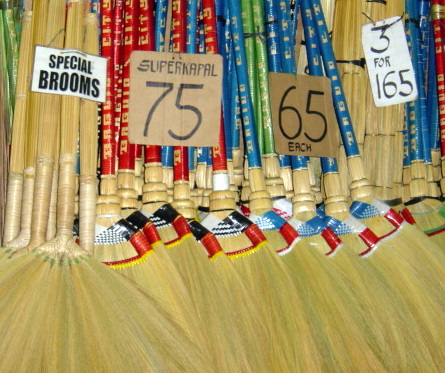 ©2012. All Rights Reserved. GoBaguio! Your Complete Guide to Baguio City, Philippines

Did you enjoy this page and find it useful?




Baguio Brooms or "Walis Tambo"

I have purposely left for last the absolutely most popular product that everyone always takes home -- the famous Baguio broom or "walis tambo!" These brooms come with woven or wooden handles that usually bear the name "Baguio City."  They are such a popular cleaning implement in every Filipino household that there are China-made copies already being sold in Manila.

Actually, the brooms are made in nearby Sablan, Benguet, from the flower of the tiger grass ("Thysanolaena maxima"), which the natives call boyboy (pronounced "booybooy") and sold there by the road-side, but the Baguio City market is provides visitors with the widest selections to choose from.