Baguio City's Historic Access Route
Kennon Road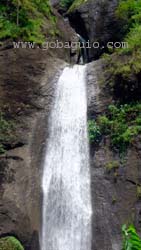 Kennon Road was for a whole century, the most popular access to Baguio City, Philippines. There has been no other road that has meant so much happiness for many travelers, who know that cool, cool weather lies just about 45 minutes away.

Kennon Road was built to connect Kafagway, later on chartered as Baguio City, to the lowlands. According to Filipino architect, author and actor -- and Baguio native -- Ernesto Zarate, his research shows that the Americans started building simultaneously from the top (which is Baguio City) and from the base (in La Union), and found that the two roads would not meet, necessitating a  winding road through Bued River Canyon, affectionately referred to as the "Zigzag."

This historic road is about 30 kilometers in length and is divided into 'Camps,'  signifying the establishment of mining camps by the Americans along the way up to Baguio City, which was originally both a mining town and a recreational facility. Learn more about how it was built and how much it cost via this great article
Kennon Road and Baguio
by Ernesto Zarate.
Turning right from the Rosario, La Union - Kennon Road Junction, one will enter through a toll gate. Marcos Highway is more popular these days as the roads are wider. Marcos Highway has no toll fees.

One passes through a short stretch of road at Camp 1 with a great view of Bued River to your left and sheets of waterfalls dropping onto the road itself to your right. It's your choice to pass under the natural 'car wash' or not.

A little further on is Twin Peaks (Camp 2) that features Klondikes Hot Springs Resort to your left and further on, Bridal Veil. To swim under most beautiful of Kennon Road waterfalls is such a magnificent experience with clear mountain spring water cascading from a sheer drop into a natural pool.

There are waterfalls visible from the road, and some of them right by Kennon Road at Camps 3 to 5, where your car will be experiencing a steady climb with gentle curves and bends. Clearly visible will be the mountains that have been mined like crazy by the Americans during the colonial period, and even after independence was granted to the Philippines because they retained mining rights over most of the country's treasure troves. While there is lush greenery all around Kennon Road, one will see bald rock faces where all the minerals holding the ground cover and pine trees have disappeared. The temperature though, starts dropping, and dropping further the higher you climb.

TRAVEL TIP

It is recommended that

you refuel your car at

either of two gas stations before entering Kennon Road. The Shell station

has an update on the road conditions  and passability of Kennon

Road and Marcos Highway while the

Caltex station has nice restrooms.

Also, fuel is cheaper by about P1.00/liter

compared to Baguio rates (for some inexplicable reason)

Past the two Lion's Heads at Camp 6 are three successive hairpin curves that don't really need a professional driver to navigate, with today's stronger engines and available power steering. These get can tricky though when one is tailing or try to overtake a cumbersome, slow-moving vehicle like a lorry.

Lion's Head: Will the real lion please stand up?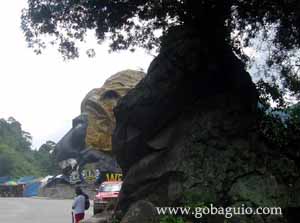 Dwarfed by the carved, man-made Lion's Head is

the real Lion's Head, a large rock naturally shaped like a lion (front), that greeted visitors to Baguio prior to 1972. The Lion's Club of Baguio City commissioned the larger Lion's Head to be carved from a natural limestone formation just a few meters away. It now has a view deck and souvenir stalls around it and is now considered a tourist attraction and one of the popular images of Baguio.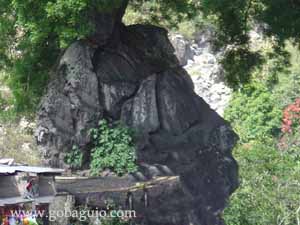 I prefer the original of course not so much because I am a romantic but because it is a natural rock formation, is way less scary-looking especially at night as there are no menacing eyes and teeth that glow in the dark, and it is the first one I see driving up Kennon Road.

And I can imagine the how the early travelers to Baguio felt upon seeing it when Kennon was newly built and knowing the Summer Capital of the Philippines was just a few miles away.

©2012. All Rights Reserved. GoBaguio! Your Complete Guide to Baguio City, Philippines

Did you enjoy this page and find it useful?