Burnham Park
The very heart of Baguio City in the Philippines
Burnham Park truly is the very heart of Baguio City. With an area of 32.84 hectares its central location makes it the most valuable piece of Baguio real estate.
The 'mother of all parks' in the Summer Capital of the Philippines, almost as familiar to Filipinos as Luneta Park in Manila is, all other developments like the city's business  center
Session Road
,
Baguio Cathedral
, City
"My gracious hostess thoughtfully took me up to Baguio on the second or third day

after I arrived and I felt I had discovered the most perfect spot in the world."

Jonathan Best, talking about his first visit to Baguio


Designed by and named after premier American architect and urban planner, Daniel Hudson Burnham, who also designed the original plan for Baguio City. Burnham Park remains, to this day, one of the Philippines' most well known and best-loved parks.

The park retains much of Daniel Burnham's original design and layout a century ago, with a few features added, in true Filipino fashion, to make it a vibrant center of activity for everyone to enjoy.

Burnham Park has 12 cluster areas:

the man-made lake with rowboats for hire that folks refer to as the Burnham Lagoon,

the Children's Playground,

the Japanese Peace Tower,

Pine Trees of the World, and

Originally intended to serve as a much-needed green park, to provide a bustling city with a peaceful environment with wide open green spaces, Burnham Park under Filipino administration is now more of an amusement park with boating, bicycle and skating areas, sports and gaming areas, plus a few eateries.

Who Was Daniel H. Burnham?


"Make no little plans for they have no magic to stir men's blood..." - Daniel H. Burnham

Burnham (1846-1912) was one of Chicago's greatest architects and planners, whose Philippine resume includes Dewey (now Roxas Boulevard) in
Manila, Philippines
as well as
Baguio City
itself, which was both a bustling mining and and recreational town!
Mr. Burham had grand  visions for everything he designed. In 1904, the Philippine capital city of Manila, he developed the areas outside the walled city of Intramuros, with a great emphasis on classic-al buildings and wide open spaces, taking into consi-deration the Philippines' Spanish influence as Spain had just six years before turned the Philippines over to the Americans.

For Baguio, he 'forced' a splendid geometric pattern amid rolling hills and wind-ing roads, which is what we know now as Burnham Park, around which the rest of the city was built.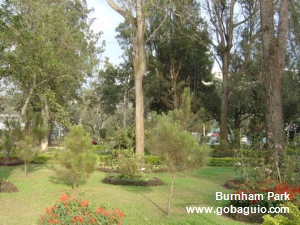 It may be accessed from any one of the following roads: Harrison , Kisad Road, Governor Pack and Magsaysay Roads. (click to view the
interactive map of Baguio City
).
©2012. All Rights Reserved. GoBaguio! Your Complete Guide to Baguio City, Philippines

Did you enjoy this page and find it useful?