Part One
Tips for Doing Business in Baguio City
Many folks want to retire in Baguio City or operate businesses here because of the weather, the "small town feel" and the lovely natural environment. For some, it is even considered "prestigious" to be living or working here.

Should you wish to invest in Baguio City, here are the different areas to look into. Please note that the laws of the Philippines apply in terms of setting up businesses, which means that one has to get the necessary permits from the local government to do so, as well as comply with the national laws of the Philippines as far as juridical entities and connstruction of buildings are concerned, among others.

This section will not deal with particulars or issues regarding business setup but instead with the different areas of economic activity that one can explore that are particular to the Summer Capital of the Philippines.

If you have not yet done so yet, it may be good to reference basic facts and
general information
about the city first. This is important in terms of analyzing different aspects of the local economy in terms of supplying a demand or creating a need.
More information on the demographics of the city, as well as requirements for setting up businesses should be available at City Hall.

Economic Areas of Activity to Explore

Hospitality & Tourism

Tourists arrive in droves during the months of December, February, April and May, the rest of the year sees large groups taking advantage of off-peak rates for conventions and seminars.
Baguio hotels
& lodging establishments aim to achieve at least a break even point during all other months knowing that the profits from peak periods will be more than enough to keep the business going.
What is lacking in Baguio City, and this is just my opinon, is the lack of tour guides who may be contracted prior to visitor arrivals.
While our major tourist
attractions
can be explored in one or two days and by the visitors
on their own
, using both private and public transportation, there are still those who prefer a guided tour both for attractions within the city and those in places nearby, such as the different areas of Benguet province, which surrounds the Summer Capital of the Philippines and other areas in the Cordilleras.
Restaurants
have a pretty high mortality rate (i.e., they come and go) in a city with a low income population that cannot afford to dine out very often or prefer cheap eateries to full service restaurants. However, those that offer catering services or have large dining rooms can do well on volume sales. It must be noted also, that those who attract a tourist crowd can do well enough during peak months to turn a profit by year end, as long as they are able to manage a break even point during the low season.
Bars and clubs in the city cater mostly to a student population and tend to be rowdy. However, there is a lack of high end watering holes for tourists and a more mature and spending crowd, so this is a good area to look into.

Education

Baguio schools
are a highly lucrative business in the city attracting Filipinos from the lowland provinces of Central Luzon and the Ilocos region, which is the direct cause of the congestion of the Central Business District. Thus there are many cheap eateries and dormitories that have mushroomed in the area.
However, there might still be room for specialty schools such as a culinary school, for example. Other short courses such as graphic design and animation are being set up by private entities using the facilities and permits of the different universities.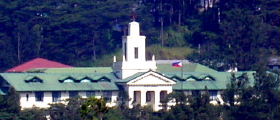 Coming Soon!

Advantages and Disadvantages of Doing Business in Baguio City

©2012. All Rights Reserved. GoBaguio! Your Complete Guide to Baguio City, Philippines

Did you enjoy this page and find it useful?




Korean
English academies
abound in the city, although the success of such establishments depends on the recruitment of enough students from Korea to make such a business lucrative. But, mind you, Korean nationals  are not the only customers of the language schools that have mushroomed in the Summer Capital of the Philippines. or in English courses in our universities. Many enrollees come from Asia, Africa and the Middle East, too.
Real Estate

Land is a precious commodity in the City of Pines, and
Baguio real estate
seems to be a very dynamic business with properties changing hands pretty frequently. But one aspect that is particularly active, more than property sales is rentals. With new business being set up all the time, there is a pretty large market for commercial and business rentals.
Manufacturing

Baguio has an Export Processing Zone Authority (PEZA) in the Loakan area where huge factories for computer parts (Texas Instruments), airplane guidance systems (Moog Controls Corporation), and garment factories abound. Other exporters have factories in other areas (e.g. Philippine Treasures) within the city.

It must be noted here that the natives or the Cordilleras are highly skilled in creating objects of art such as wood carving, furniture making, and weaving so if this is the area you are looking into, please know that there will be a good supply of skilled workers.