Things to Do
Baguio for FREE!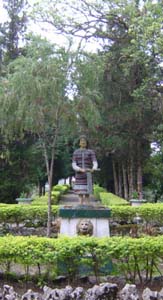 Congratulations!!! You have just reached one of the most popular pages in this site, the one that gets printed out a lot (I have actually met a lot of people who have shown me a hard copy of this page saying, "There's this travel site on the web that lists the things we can do in Baguio for free!")

This is actually one of the first lists that I wrote back in 2003 or 2004, when  GoBaguio! was first published. I figured folks might find it refreshing to find a site on the web that is not "selling" them something. It is also the one that I update a lot, just like
Best of Baguio
, or
Best Ways to Relax in Baguio
with fresh ideas as I discover more and more interesting things to in the place that occupies a big part of my heart.
Things to do in Baguio City

that will not cost you a single cent(avo)

Explore the caves & WWII tunnels on South Drive

Collect fallen pine cones to make your own Christmas Tree. The best time to do this is from July onwards

Go "window" shopping at the Baguio City Market dry goods section and Maharlika Livelihood Center

Try on some bargain designer clothing and live out your ukay-ukay diva dreams

Take long walks on the beautiful East Side: Leonard Wood, Brent Road, Navy C M Recto) Road, Mines View, Outlook Drive, Gibraltar. Please note that South Drive, which is simply beautiful, can be romantic by day (but spooky at night)

Visit as many parks and gardens as you can. To name a few: Burnham Park, Botanical Garden, Sunshine Park, Peoples Park, Japanese Garden, Igorot Garden, Mines View Park

Gather twigs, fallen leaves and have a bonfire

Check out art galleries at the Baguio Arts Guild at Botanical Garden and the Woodcarvers Village at Asin

Count the number of volkwagen beetles moving around in the (those little things climb mountains really well and are very popular among residents)

Try a few Ilocano words on the locals

Lay a blanket out on Burnham Park and read a good book

Go birdwatching. We have a lot of different species flying around. I just can't tell you their names, but they're pretty!)

Fly a kite at the Melvin Jones Grandstand in Burnham Park. It might be more fun if you made your own kite, too

Hike up Mt. Sto. Tomas (Baguio's highest point and get 360˚ view of Baguio City, La Union and South China Sea. It's one of my favorite places for a picnic

Visit churches and temples

Count the number of steps of the following stairs (if the sign posts tell you how many steps there are, verify). Examples: stairs to the Baguio Cathedral from the middle of Session Road, stairs to the Lourdes Grotto, stairs leading up from the Wright Park Riding Circle (pony rides) to Wright Park (gazebo, Pool of the Pines), stairs at the Botanical Garden

Have a digital photo contest of interesting names and signages such as "Napulyun" taxi cab, "Why look?/Crush me? mud guards, or "(Name of Parlor) Men & She Salon"

Wash your car using free mountain spring water. Look around, you'll find quite a few

Engage someone in a game of chess at the Igorot Garden in Burnham Park

Gather river stones of different shapes at the Bued river (Kennon Road) or Nangalisan river in Asin -- and who knows, you may get lucky and find a gold nugget!

Interview the natives in ethnic dress (Wright Park, Botanical Garden, Session Road) -- in English, of course!

©2012. All Rights Reserved. GoBaguio! Your Complete Guide to Baguio City, Philippines

Did you enjoy this page and find it useful?




HERE IS A LIST OF

CHEAP THINGS TO DO

Visit Tam-awan Village, a  thriving artist's community for a minmal entrance fee per person

Take a "Cosmic Journey" at the Maryknoll Ecological Sanctuary that also features a pine forest, hanging bridge plus picnic tables for a minimal entrance fee per person

Get your portrait done by a

member of the Baguio Arts Guild at the Botanical Garden, donations accepted

Visit the Butterfly Sanctuary at Camp John Hay for a minimal entrance fee per person

Go Flower Picking

at the flower farms in La Trinidad Valley at just P10/plant

Get Dressed in a Bahag!

This is so my favorite of all -- at Mines View Park, one may rent a bahag (for men, complete with spear, vest and headdress and for women, tapis, vest and headdress) for a photo for just P10/person