Plan Your Trip
Travel Tips for Baguio Visitors - page3
Of course it's always sad to know that all vacations must come to an end, and while it is easy to leave your heart behind in Baguio City, Philippines, we want to make sure you leave us bringing home with you not only good memories and  loads of souvenirs but also that you get back home safe.

1. Gas up and check oil, tire pressure, brake fluid, etc.

•  If you want to refuel, there are stations at Rosario, La Union that sell fuel cheaper than in Baguio City.

•  In fact, the funny rule in the Philippines seems to be: the closer you get to Manila the cheaper fuel gets.

•  You may want to do all these on the eve of your departure to avoid long queues in city's few gas stations, especially during peak seasons.

2. Check out of your
hotel
•  Should you wish to stay a few hours longer in Baguio, ask if you could leave your bags with the concierge and pick them up  later. Make sure you lock your luggage, just to be sure.

•  Do a last minute check of your room to see if you left anything behind. Make sure to check under the bed, inside drawers and closets, under the sheets and pillows. Make sure you have the number of your hotel with you in case you want to contact them after checking out.

Handling Fresh

Strawberries & Ube Jam

If you're buying strawberries to bring home please select those that are as "unripe" as possible as they tend to ripen fast in transit. Ask the vendor if you can pick each strawberry yourself. It'll probably cost about Php20.00 more per kilo, but the extra charge will be worth it!

Finally, if you're bringing down ube jam, make sure you let it cool before closing the lid (ask the vendor if it is freshly cooked or not) as the ube will spoil should you close the lid while it is still hot!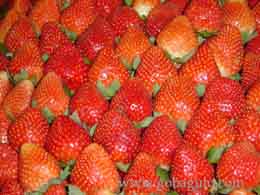 •  In case your stay was hosted by friends or relatives in their home, common courtesy dictates that you do not leave without saying goodbye. Profuse thanks and a little gift perhaps, are very much in order, as well as an invitation for them to come visit and stay at your home if you want to return the gesture.

•  In case you were lent a Baguio vacation house for your use, please make sure to return all the keys to the caretaker (and maybe add a tip?), replenish the kitchen fuel you consumed, have the linen and beddings washed, and clean the house and dishes before you go.

Hosting anyone's stay, though it may be free for the guest, definitely costs some money on the part of the host -- extra costs for utilities, food and fuel, etc., so little gestures, courtesies or tokens of appreciation are always good.

•  Edibles and perishables should be purchased right before leaving Baguio CIty (e.g. strawberries, longganisa, ube), preferably a few hours before departure.

•  And should you find that your car is overloaded, or that you can't carry everything home with you on the bus or plane, please know that you can pack these items into large boxes and send them down by freight service to Cubao or Pasay using Victory Liner or Dagupan Bus Line at the rate of just 10% of declared value, which already includes insurance coverage. Not a bad deal, eh? So you can shop to your heart's content and not worry about being overloading your car or being too crowded in there.

4. Plan Your Trip Back Home


If you will be several vehicles traveling in a convoy, may I suggest that you decide on

meet up points beforehand so you can wait for each other there instead of traveling like

a caravan, which I find to be a little more hazardous for all concerned when each car is

trying to keep the others in sight.

Suggested Meet Up Points En Route to Manila:

• Top of Kennon or Marcos (the Petron Station at the BGH rotunda is recommended)

• Base of Kennon or Marcos at Rosario La Union (there's a Petron Station on your right)

• Isdaan Restaurant at Gerona, Tarlac (just a few kilometers away will be the entrance to

the first SCTEX access road) or the first Shell gas station upon entering Tarlac City (you

will see this after the welcome arch). It's good to meet up here even if you choose to drive

a few kilometers further to enter the SCTEX via Hacienda Luisita.

• The first NLEX gas station to your right

•  Should you be taking a plane home, call the airport or airline hours before your flight so you can check for  delays or cancellations. This is especially important if you have a connecting flight to another destination, so you can make appropriate adjustments, like renting a car or riding a bus instead.

• 
If you are leaving by bus
, and you did not purchase your return ticket upon arrival, then please know that we have bus trips leaving for Manila every half hour for Victory Liner and every hour for Dagupan Bus Line so it should be fairly easy to get a ride back down. But for high tourist season (Holy Week, Christmas) and other holidays and long weekends, it is better to be sure to secure your seats as early as possible. You may also want to call the  other bus companies to check their trip schedules. Their contact info can be found at the
Baguio Directory Travel and Transportation
section.
Well, I guess this wraps up the GoBaguio! Trip Planner section. There are more than 140 other pages in this site filled with tips to make the most of your Baguio vacation. Feel free to browse them all, and print out the pages you may want to bring along for your reference.

Did you enjoy this page and find it useful?




Staying at a Friend's House?

©2012. All Rights Reserved. GoBaguio! Your Complete Guide to Baguio City, Philippines